Aylesbury Rugby Club to continue pursuit of cup glory
Aylesbury Rugby Club chair Paul Milham believes the new Papa Johns Community Cup has breathed new life into the club's season as players and fans dream of cup glory.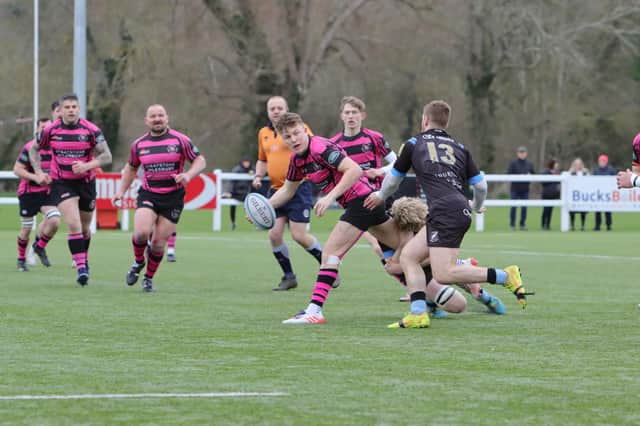 Aylesbury won in dramatic fashion in the first round of the inaugural competition, beating Witney 32-31 to set up a home tie against Newent on Saturday (15th) in the next step on the road to Saracens' StoneX Stadium.
After a hugely successful day both on and off the pitch, Milham hopes there are some more magical cup moments in store.
"We made a day of it for the minis and juniors and had a really good crowd," said Milham.
"Twenty-five of our minis formed a tunnel and applauded Witney onto the pitch, which was a nice touch, then they ran on with our guys as mascots.
"We wanted to make a thing of Cup day to encourage more people down to the club. We've been encouraging parents to come down for a match day for years and basing it around the Cup worked well.
"The kids were buzzing, and a lot of the parents said they couldn't believe how good it was. They didn't know what to expect from a match day and loved it, so they said they'd come again which is brilliant."
It was not just the spectators who got swept up in the drama of the cup at Ostler's Field, with the players too having an extra spring in their step at the start of the inaugural Papa Johns Community Cups.
"Cup rugby is different, it's special because at this level it's a knock-out - you can't miss any chances," he said.
"It brings another level of intensity. Players came off the field saying it felt different too. They couldn't believe how loud it was.
"Unlike leagues, where you get a chance to right your wrongs, in the Cup you get one shot, if you mess it up, you're done."
According to Milham, Witney more than played their part in a fantastic contest which ebbed and flowed one way and then the other before the hosts triumphed at the death.
"We know Witney, our second XV are in the same league as them, they're a great club and always good company, so we knew we were in for a good day on and off the pitch," he said.
"They scored the first points, we then came back, and it went to and fro.
"Witney scored with what we thought was the last play of the game, but it wasn't, the ref blew again.
"A reversed penalty on our ten metres gave us the opportunity to kick for a lineout. The lineout was sound and what must have been a 14-man-maul ensued which saw us go over in the last play of the game."
Milham is looking forward to welcoming Newent to Ostler's Field this weekend, with both sides hoping their journey will continue towards Saracens' StoneX Stadium in north London, where the Papa Johns Community Cup concludes for those vying for the South Plate.
There is still a lot of rugby to play before then, with close to 500 grassroots clubs in 24 competitions taking part in the new end-of-season finale.
Milham says the timing of the tournament is encouraging people to stick around at Aylesbury, sensing something special in the Weston Turville air.
"Having the Papa Johns Cup has been great as otherwise we would have had an empty clubhouse at this stage of the season," said Milham.
"Instead, the clubhouse was full. It got members who wouldn't normally come down to a match day coming down because it was the Cup.
"The word Cup meant something different to a lot of them, so they came down.
"Having enjoyed the experience so much, hopefully they'll be back down for the next round on the 15th April."
For more about the Papa Johns Community Cup, including where to find next week's men's draw, visit englandrugby.com/pjccup