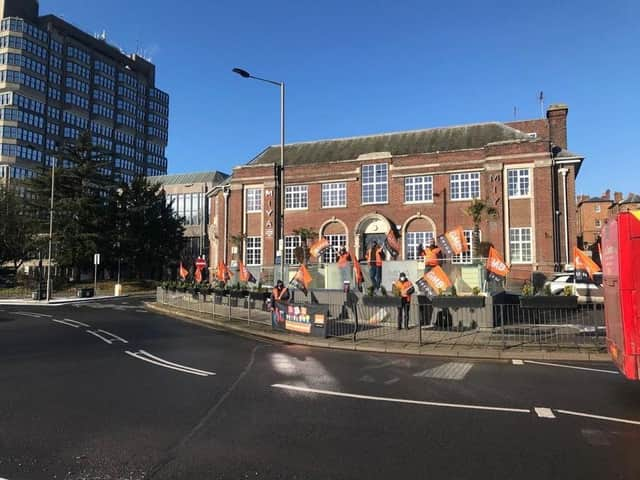 British Gas workers striking in Aylesbury earlier this year
Engineers and trade union GMB have been locked in a bitter dispute with British Gas operator Centrica over proposed changes to their terms and conditions.
Hundreds of British Gas engineers across the UK will lose their jobs by midday on Wednesday if they refuse to sign up to new 'employment terms'.
Disputes centre around British Gas' controversial 'fire and rehire' scheme, which workers say will make them worse off.
On 1 April Britain's biggest energy supplier handed dismissal notices to nearly 1,000 of its engineers, who install and repair boilers and heating systems for the company's nine million service customers.
British Gas Engineers were given 'two weeks' by the company where they could change their minds on the new contracts - which they claim will mean longer work hours and shifts on weekends or bank holidays - or they face losing their jobs.
It is expected 100s of engineers will be without work after refusing to accept the new terms.
The Bucks Herald has been told by an anonymous GMB source that one person has lost their job because of the strikes, while five others have quit because of the new terms offered to them.
They described the terms as 'a disgrace'.
The battle has been raging now for over nine months between union reps and British Gas.
Justin Bowden, GMB regional secretary said: "That British Gas doesn't give a toss for either its customers or staff is evidenced by the mass sacking of the engineers that it badly needs to service these customers.
 "Whilst there is sadly nothing to stop a company bullying its own staff to sign terms they don't accept, and sacking those who won't submit to bullying, GMB members will not accept the outcome of this nine month campaign of British Gas bullying. That is why they are staging their 43rd day of strike action on Wednesday, 14 April.
"We have news for Mr O'Shea and Centrica: this dispute will continue and become an official national lockout dispute. There will be more strikes and action short of strikes.
"The British Gas leadership disaster reaches its low point on April 14th with mass sackings of British Gas Engineers - in the only consistently profitable part of the company - by a management team too stupid to see the true value of a uniquely skilled and loyal workforce. 
"With hundreds of thousands waiting in the backlog for service, customers have been treated as collateral and so it seems too will staff - as Mr O'Shea prepares to go down in history as the first major FT listed CEO to carry out mass sackings of his highly skilled and qualified engineers whilst his customers are waiting for visits.  The workforce are Mr O'Shea's most valuable asset and he will be universally condemned by politicians and the public alike for doing so.
"The arrogant gamble has been lost. Any fool can start a war and, it seems, ruin a good business. History will not be kind to Mr O'Shea or the Centrica Board who failed to rein in him and his out of control leadership team."
A spokesperson from Centrica said: "There is a job for everyone at the end of this process. We are changing the way we work to give our customers the service they want and protect the future of our company and 20,000 UK jobs. Today marks the end of the period for our employees to sign new contracts. These are highly competitive, and our changes are reasonable. Around 98% of the entire company has accepted and we hope the remaining, also sign and choose to stay. We have not cut base pay or changed our generous final salary pensions. Our gas service engineers remain some of the best paid in the sector, earning £40,000 a year minimum.
"While change is difficult, reversing our decline which has seen us lose over three million customers, cut over 15,000 jobs and seen profits halved over the last 10 years is necessary. The changes will also unlock our ability to grow jobs and hire 1000 green apprentices over the next two years.''