Town council urges residents to check defences after flash flooding damages Buckingham properties
The town council has broken its silence after Monday's shocking weather
Watch more of our videos on Shots! 
and live on Freeview channel 276
Visit Shots! now
Buckingham Town Council has urged residents to check their flood defences after extreme weather caused havoc on Monday (12 June).
With more thunderstorms expected in the area on Sunday, people are being urged to prepare for more floods.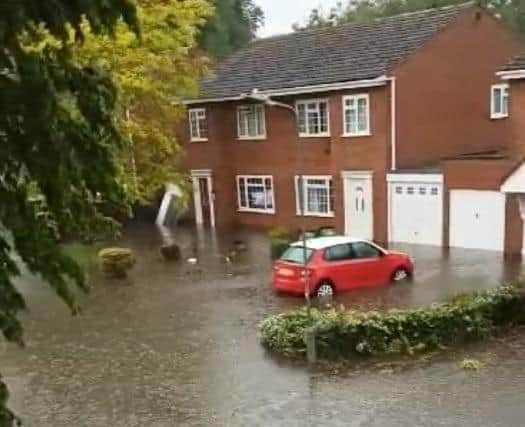 As well as the strong downpour, thunder, lightning, strong winds, and hailstones also caused major disruption.
Several homes and businesses experienced flooding from roofs or gutters, or from surface water flash flooding entering through doors, walls and overwhelmed drains.
Trees falling onto roads blocked traffic and pathways, and damaged vehicles.
Council officials have developed a plan, which is available to the public, advising on what can be done before, during and after a flooding event.
This plan was followed by the council, with staff monitoring the river and other potential flood risk sites.
Some members of the council stayed on duty to assist vulnerable residents living in flood areas, including homes on Meadway and Nelson
Street, to check if they had been affected and if they needed any assistance. They also answered the phone to those asking for help or for advice and concerned about further flooding.
Every vulnerable resident was reported as safe after the flooding stopped.
Most houses close to the river were able to deploy their flood defences in time, which saved them from flood damage, though some still suffered flooding due to vehicles driving through deep water and creating bow waves higher than the flood defences.
The council has reminded residents that that they should not enter flood water, and that if it is absolutely necessary to drive through shallow flood water they should drive slowly and with care, remembering that their bow waves are directly affecting someone's home.
The town council's headquarters was among the buildings that were damaged. Repairs are still being made to trees, green spaces and buildings.
Better preparation was impossible in this instance the council reports, due to the rapid nature of flash flooding. An amber warning from the Met Office came only moments before the downpour began. However the council believes its log of vulnerable residents in potential flood areas, meant it was able to keep people safe.
Volunteer flood wardens were contacted on Monday, but not deployed. This was because there would not have been enough time for the wardens to reach at risk residents, before the flooding began.
At the height of the flooding the river level rose by 40cm, the council reports.
Buckingham Mayor, Councillor Anja Schafer, said: "I want to thank our town council officers and members of the green spaces team, who worked well into the evening to make sure nobody was in danger from the incredible amount of water that came down on Buckingham in a very short space of time.
"I'd also like to thank those residents and businesses who went out to help their neighbours or stayed open late to ensure everyone could access the supplies they needed. My thoughts go to all those whose property was damaged by rain or flood water."