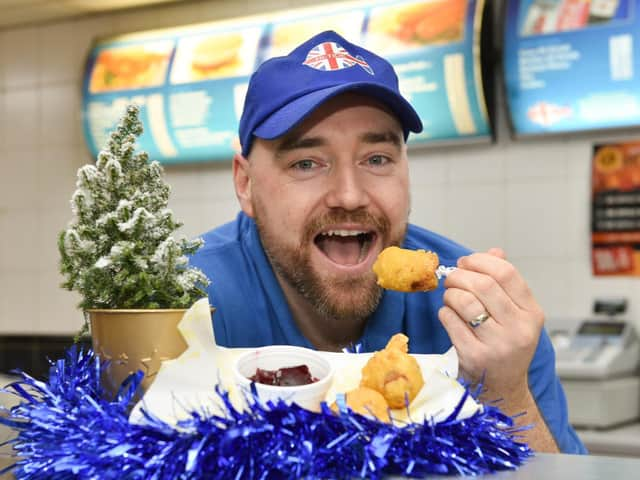 Kyle Hawley with the Christmas delicacy
Family-run fish and chip shop Hi Tide, in Mandeville Road is currently seeing up to 60 portions of its battered Brussels sprouts fly out the door, after customers gave their seal of approval.
The sprouts are boiled in a pan before being wrapped in bacon and then coated in batter, after a minute in the fryer they are ready to serve!
Kyle Hawley, who has been running the business for 22 years with his dad Alan, mum Lana and brother Mark, said: "A couple of years ago we did jumbo battered pigs in blankets. The year after we all sat around the table and tried to think of something new.
The battered sprouts are served with a cranberry dipping sauce
"Last year the Brussels sprouts really took off, so we have brought them back this year and we are also doing mini battered pigs in blankets.
"Even people who don't like sprouts think they are lovely, and they are really quick to prepare so people can decide they want them on a whim, and won't have to wait for ages.
"Now people are coming in only for the sprouts, they have been that popular."
Do you have an unusual way to celebrate Christmas? Get in touch by emailing [email protected]