Hampden Fields Action group: "The campaign against this development continues, we'll leave no stone unturned"
The Hampden Fields Action Group, who have opposed the Hampden Fields development since it was first suggested, have vowed to continue opposition against the site.
Tuesday, 2nd March 2021, 2:04 pm
Updated
Tuesday, 2nd March 2021, 2:06 pm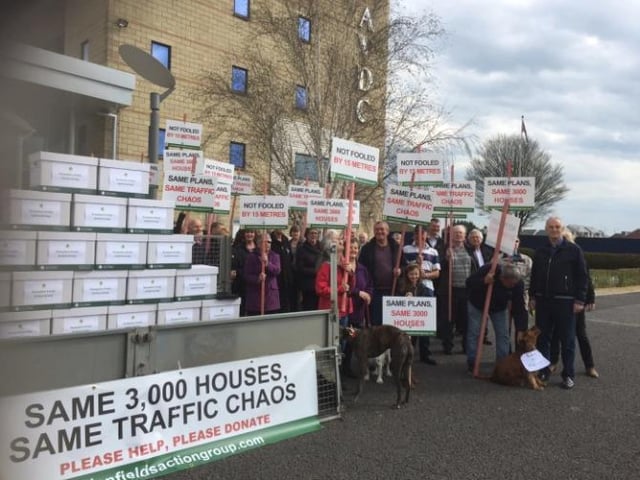 The HFAG at Buckinghamshire Council
This week the Council have recommended approval for the new development, which will see 3,000 new homes and a range of other facilities built in Aylesbury.
The HFAG cited several concerns with the development, including:
-The Main road through will carry over 48,000 vehicles per day (making it by far the busiest in Aylesbury),
-Other transport issues have not been fully assessed and questions remain over the use of the correct data,
-Severance, where parts of a development get cut off from others and create social/crime issues,
-Coalescence, where villages get subsumed into Towns e.g. Weston Turville to Aylesbury,
-Prematurity to the Vale of Aylesbury Local Plan. The inspector has effectively been forced into agreeing the road strategy around Aylesbury because the council are seeking to approve these applications ahead of his Plan review.
HFAG claim that the council have approved the decision 'despite very strong' objection from HFAG.
HFAG also claim the Buckinghamshire Healthcare Trust back up their opposition to the development.
Correspondence seen by the Bucks Herald between HFAG and the Buckinghamshire Healthcare Trust says:
"There is no doubt that without adequate mitigation the NHS will suffer creating unsustainable developments.
"This will impede our ability to practically and financially provide good and comprehensive services to patients for the existing population here.
"The lack of mitigation on any development has serious consequences on our service and therefore without the Council agreeing to mitigate the impact this will leave the trust with no option but to take further action."
When asked for further comment the Health Trust clarified their position saying "To be clear, the Trust has not objected to the development per se but has raised representations regarding the importance of ensuring that there are sufficient mitigations for the impact on NHS services."
"The matters raised by Hampden Fields Action Group were discussed at length during the planning committee meeting on 24 February 2021, which is publicly available."
HFAG have launched a fundraiser to help pay for their legal costs and to pay for expert consultants.