Bucks Council receives further criticism for its links to fossil fuels
It is claimed that the council has invested £63 million into such projects
Watch more of our videos on Shots! 
and live on Freeview channel 276
Visit Shots! now
Buckinghamshire Council has been urged to "divest" itself of fossil fuel investments through its Pension Fund, which campaigners have said contributes to climate change.
The fund has been pooled with those of other local authorities under the Brunel Pension Partnership, which puts the money into investment portfolios.
Environmental activist Rachel Blackmore, 64, told the Local Democracy Reporting Service (LDRS): "Bucks pensions should not be invested in fossil fuels. It should be renewables. It is such a no-brainer."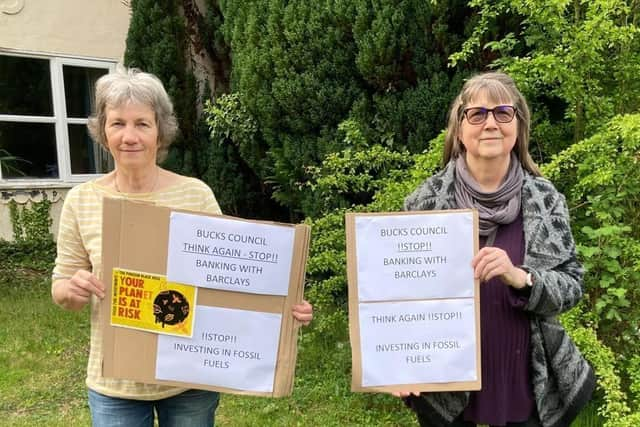 The retired midwife, from Weston Turville, withheld her council tax last year as a form of protest before paying it in full after she received a court summons.
She said: "Never mind us being summoned to court, it should be Bucks Council. They say, 'Oh well we are with Brunel'. But [Brunel] has a portfolio that doesn't have fossil fuels. It is a choice."
Campaign group UK Divest claims the council has invested £63 million into dirty energy through its Pension Fund.
In September the council also decided to maintain its banking contract with Barclays, which expires in 2027, following an e-petition that called on the council to "stop investing in fossil fuels".
Barclays is one of the largest financiers of fossil fuels of any bank in Europe, according to a report by the Rainforest Action Network, although the bank has set a target to achieve "net zero carbon emissions" by 2050.
Activists and councillors have questioned whether the council's investments are compatible with its commitment to achieve "net zero" in Buckinghamshire by 2050.
Peter Marland, Milton Keynes City Council Leader, who recently left Buckinghamshire Council's Pension Fund Committee, told the LDRS that that divestment from fossil fuels is happening too slowly.
He said: "As a member of the Pension Committee I have pushed for a move away from fossil fuels towards cleaner investments.
"In principle the Committee agrees but in my view the timeframe to do so is too slow and the targets are not ambitious enough.
"The question for Bucks Council is: 'Are Barclays doing enough to reduce their financing of carbon intensive industries?'
"I can only say I do not think Milton Keynes City Council would use Barclays unless they made major changes to their operation in the area of climate change."
Rachel, who has been involved in Extinction Rebellion and Just Stop Oil, also urged the council not to stop making investments in fossil fuels.
She said: "The climate situation is so catastrophic. We should have been cutting emissions 50 years ago.
"We had the floods in Libya, wars in Syria over drought. And people dying from heat-caused deaths. Millions of people have died because of extreme weather events.
"I feel really strongly about every fraction of a degree. We should not be investing in new fossil fuels."
Barclays told the LDRS it had provided over £87bn of green finance since 2018 and has achieved a 32 per cent reduction in its financed emissions since 2020.
The bank said that oil and gas companies were critical to the "transition to a low-carbon business model".
It added: "Where companies are unwilling to reduce their emissions consistent with internationally accepted pathways, they may find it difficult to access financing, including from Barclays."
Buckinghamshire Council was approached for comment.