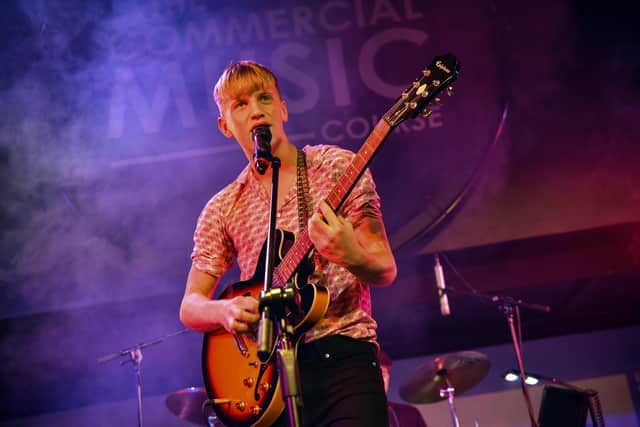 Your kids could be doing what they love – playing rock and pop, composing and producing – and getting their A-levels too!
Tring Park School for the Performing Arts combines academic learning with performing arts in the curriculum – and its commercial music course is now in its 10th year.
The commercial music course began in September 2012 after identifying a gap in the market for popular music education. Several established schools were offering either elite classical or jazz courses but there was little on offer for young musicians who wanted to focus on rock and pop in full-time education.
The course is open to students aged 16-18, who have a talent and interest in creating and performing popular music, and is taught by experienced performers and active musicians.
Do you have a young rock or pop star on your hands? This local school offers top-class education and the chance to write, produce and perform music.
Every year the students on the Commercial Music Course perform an external Showcase. Previous venues have included: the 606 Club, Pizza Express Live, Holborn and Bush hall. Throughout the year pupils on the course have frequent opportunities to perform in Acoustic Nights and in-house showcase.
Director of Music, Harmesh Gharu, said: "I wanted to create a comprehensive popular music course that was artistically exciting, quality-driven and industry-focused."
The course is often visited by industry professionals and most recently the pupils have been working with former student Ella Henderson. Other masterclasses have included Frank Turner, Michael Jarman (Closer Artists), Dani Sawyer (Universal Music), Lindy Robbins and Steve Robson (BMG).
Every year the students on the Commercial Music Course perform an external Showcase.
This private school is a co-educational boarding and day school in the stunning Tring Mansion which was designed by Sir Christopher Wren (most famously the architect for St Paul's Cathedral) and built in 1673. Based in Hertfordshire, UK, pupils receive rigorous training in the performing arts that is combined with an extensive academic programme of study.
It became a school in 1945 and has been welcoming pupils ever since. It offers a unique learning experience, combining traditional academic education with performing arts and creativity.
From Year 7 until Year 11 pupils can specialise in either Dance or Performance Foundation and are then given the option to focus on Dance, Commercial Music, Musical Theatre or Acting at Sixth Form. From September 2022 the school is accepting pupils from Year 3 to Year 6 into Tring Park Prep (Years 3 to 6) which offers unique education with an emphasis on performing arts and creativity.
To read more about the Commercial Music Course and the school visit the website here