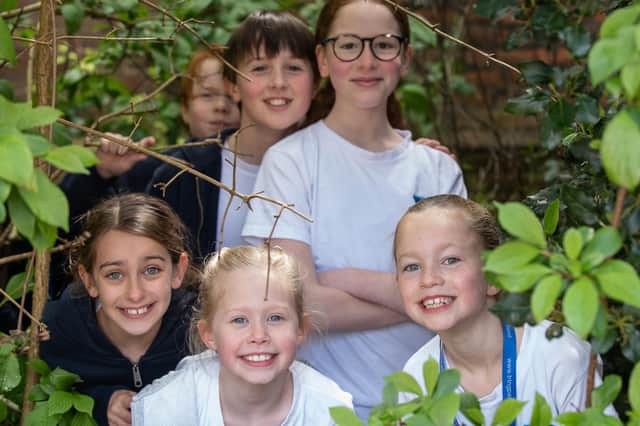 Does your child love to sing, dance or act? This local school offers top-class education and performing arts at the heart of the curriculum. Find out more at February open event.
Tring Park School for the Performing Arts combines academic learning with performing arts in the curriculum – and from September this year is opening the school to boys and girls as young as seven as day students.
This private school is a co-educational boarding and day school in the stunning Tring Mansion which was designed by Sir Christopher Wren (most famously the architect for St Paul's Cathedral) and built in 1673.
It became a school in 1945 and has been welcoming pupils ever since. Now it offers a unique learning experience, combining traditional academic education with performing arts and creativity.
This private school is a co-educational boarding and day school in the stunning Tring Mansion which was designed by Sir Christopher Wren
From year 3 pupils get a foundation in all performing arts disciplines before starting to specialise further up the school with the option to focus on Dance, Commercial Music, Musical Theatre or Acting at Sixth Form level.
An open event will be held on February 25 from 3.30 – 5.30pm for prospective parents and pupils, of any age, to learn more about what the school offers and to speak to staff and students.
Now open to year 3 pupils
For the first time in the school's history, this September the school will be able to welcome pupils in year 3 – age seven. They will be day pupils and will be educated at Tring Park Prep – in the same building. The Prep School caters for years three, four, five and six where children benefit from small class sizes (up to 20 pupils) and will have a balance of academic education and performing arts and creativity.
Come along to an open day at this prestigious performing arts school – now taking day pupils from age 7
Stefan Anderson, Principal, said: "Pupils here are from a variety of different backgrounds, all with a passion for the performing arts. The pupils are treated as individuals and are all given equal opportunities to achieve and become the best that they can be.
"Your child will benefit hugely from being part of a larger and internationally renowned performing arts school. These children have a varied and fulfilling day, participating in all areas of school life. They are supported not only by the prep teachers but by our dedicated team of pastoral staff who will ensure that your child feels secure and well cared for."
In the Prep school children are taught in two mixed-age classes, and follow a timetable which combines performing arts and academic lessons. About one third of the pupils' time is spent in vocational lessons and the rest on more traditional academic subjects, sports and holistic activities such as mindfulness.
As pupils move up the school they can specialise in different areas of performing arts whilst at the same time continuing to get a first-class academic education – pupils have gone on to Cambridge and Oxford and become lawyers and doctors as well as entered the world of the arts and become professional musicians, actors and dancers.
To find out more, come along to the open day on Feburary 25 between 3.30 and 5.30pm.
Prospective pupils and parents will be greeted with a welcome talk by members of our senior leadership team, tours of the mansion and school ground and have an opportunity to meet current pupils who will be on hand to answer any questions you may have.
And to read more about the school, the courses, famous former pupils, school life and its ethos, visit the website here.