Buckingham teacher's book and app aims to help students improve wellbeing
'Students face unique challenges – the social and psychological demands of social media are a constant presence, then there are wider anxieties about big issues such as climate change'
Watch more of our videos on Shots! 
and live on Freeview channel 276
Visit Shots! now
A psychology teacher from Buckingham has released a book, an online course and an app to help students improve their wellbeing.
Aidan Harvey-Craig, who teaches at Stowe School, has written 18 Wellbeing Hacks for Students, offering a practical guide to achieving mental and physical wellness through proven psychological principles.
Drawing on his extensive knowledge of psychology, Aidan covers a wide range of topics, including mindfulness, sleep, exercise, breathing, gratitude, and music.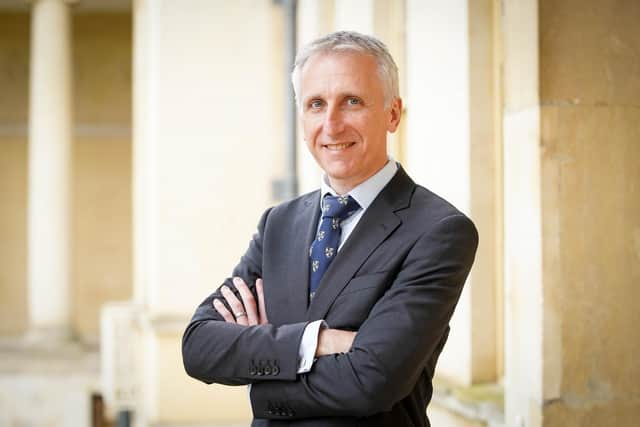 There are also some lesser-known ideas from psychology including the benefits of being a 'flextrovert', the importance of taking some time to do almost nothing, and using the ancient Japanese art of Kintsugi to help deal with perfectionism.
Aidan said: "Students face unique challenges. The social and psychological demands of social media are a constant presence, then there are wider anxieties about big issues such as climate change, and all the time they have the usual academic pressures along with the threat of increasing global competition for jobs.
"In my book, I explore simple, evidence-based ways to help them build resilience and minimise the likelihood that they experience mental health issues.
"It all started when a friend mentioned that his teenage son was going through a particularly challenging period, and he was unsure how to help him. I wrote the book to help them take those first steps and find practical solutions.
"It is more than just a self-help guide. It is a comprehensive resource that offers young people clear, actionable ways to achieve lasting wellness, and improve their physical and mental health.
In addition to the book, Aidan also offers an online wellbeing course called the Student Wellbeing Ambassador Programme (SWAP), designed to train groups of students and give them the tools to influence their peers to bring about behaviour change for improved wellbeing. There's even an app, called WellSenz, to go with the course.
Aidan added: "There is strong evidence to suggest that whole-school approaches to promoting wellbeing can have positive effects on a wide range of other student outcomes, including mental health, self-esteem, self-efficacy, motivation, behaviour, and decreased probability of dropout."
18 Wellbeing Hacks for Students is available online.