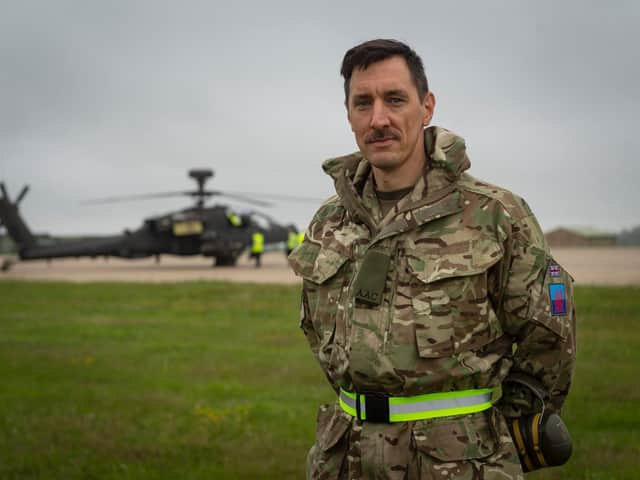 Airtrooper Paul Roberts
Airtrooper Paul Roberts - a helicopter pilot in his civilian life – is a groundcrew specialist with 6 Regiment Army Air Corps in his spare time.
The 42-year-old is working side-by-side with regular counterparts in 3 Regiment Army Air Corps (AAC) to maintain, refuel and rearm the Apache during a major training exercise.
Speaking to the Herald, Paul said: "For me, as a helicopter pilot, the Apache is the real dream machine.
"I thought about joining the Army when I was younger and regret that I didn't, so I've missed the boat to be an Apache pilot but working as ground crew puts me as close as I can get.
"Working on military helicopters brings extra complexity, but I've had good training and we work as a team."
Airtpr Roberts is one of six Reservists on a three-week attachment to 3 Regt AAC for Exercise Talon Hydra, training the unit for its role to provide an aviation deep manoeuvre battlegroup – made up of attack, reconnaissance and transport helicopters - to 3rd (UK) Division, the British Army's high readiness warfighting division.
Airtpr Roberts has started with a week at Wattisham Flying Station in Suffolk to bring his skills up to speed before moving to the STANTA Ranges in Norfolk.
Wattisham Flying Station (WFS) in Suffolk is the main operating base of the British Army's Apache attack helicopter.
WFS is home to 3 and 4 Regiments Army Air Corps, which operate the Apache, and 7 Aviation Support Battalion Royal Electrical and Mechanical Engineers, which provides maintenance support. 653 Squadron Army Air Corps provides 'Conversion To Role' training, teaching pilots who have been trained to fly the Apache to fight the aircraft.
He will be living in the field and working on Forward Arming and Refueling Points (FARPs) - the military equivalent of a Formula 1 pit stop.
"The regular guys have really welcomed us," he said. "They recognize that as Reservists we get less time with the aircraft and are still developing our skills and are really helpful."
In his civilian life, Airtpr Roberts work as a charter pilot ferrying VIPS, businesspeople and celebrities in an AW109 helicopter.
He has served with 6 Regt AAC's detachment at Milton Keynes for five years.
"From my civilian life, I understand helicopters and I'm comfortable working under the rotor disc; my military role has given me teamwork skills and the discipline to follow the correct procedures," he said.
6 Regiment Army Air Corps (6 Regt AAC) is an Army Reserve unit provide soldiers to support regular Army units operating the Apache and Wildcat helicopters. With its headquarters in Bury St Edmunds, 6 Regt AAC has detachments in Ipswich, Norwich, Luton, Milton Keynes, Portsmouth, Middle Wallop, Taunton and Yeovil.