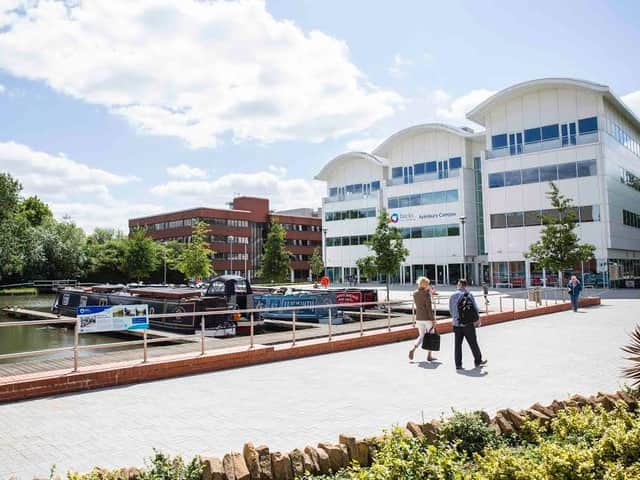 The Digital hub located at Buckinghamshire New University, Aylesbury Campus
To meet this growing demand, a Corporate Co-working Membership scheme is being piloted in Buckinghamshire and Oxfordshire that will give businesses the chance to offer employee collaboration at a convenient workspace close to home.
It can also be used to escape unwanted interruptions or to help improve general wellbeing.
The flexible scheme is being launched by the UK's leading operator of business & innovation centres, Oxford Innovation, at the Bucks Hubs in High Wycombe and Aylesbury along with the Grassroots centre in Oxford, and could be rolled-out nationwide later this year.
Caroline Downer, a Community Manager at the Bucks Hubs: "This is exciting news for the people of Aylesbury, High Wycombe and surrounding towns, who still want the flexibility of being able to work from home, but with the balance of accessible, high quality workspace close to home. Thanks to our Corporate Co-working Scheme, they will now also be able to meet like-minded professionals or work alongside colleagues if they choose to work in the same place."
According to a recent survey by the Office of National Statistics (ONS) less than 1 in 10 (6%) of working adults said they are going to continue to work all of their hours from home and an additional 23% of working adults said they plan to work some hours at a work location, and some hours at home.*
Oxford Innovation's Corporate Co-working Membership will provide access to contemporary workspace in blocks of 160 hours, which can be used by up to four employees in a centre at one time.
Gareth Scargill, Commercial Director, Oxford Innovation, said: "We are excited to be at the forefront of a workplace revolution and are piloting our Corporate Co-working Membership at three centres with the overriding aim of being able to support businesses of all sizes across the UK to meet the needs of employees as well as promote collaboration."
"The ways of office working may have changed forever, but dynamic workspaces are here to stay and could potentially help businesses cut costs associated with a traditional office lease in favour of a far more flexible solution."
Owned by Buckinghamshire New University, the Bucks Hubs in Aylesbury and High Wycombe offer contemporary COVID secure co-working space with the perfect blend of privacy and community. Both hubs have a supportive team in place to cater for all business needs and enable collaboration.
For further information about Oxford Innovation's Corporate Co-working Membership at the Bucks Hubs, visit: bucks-hubs.co.uk