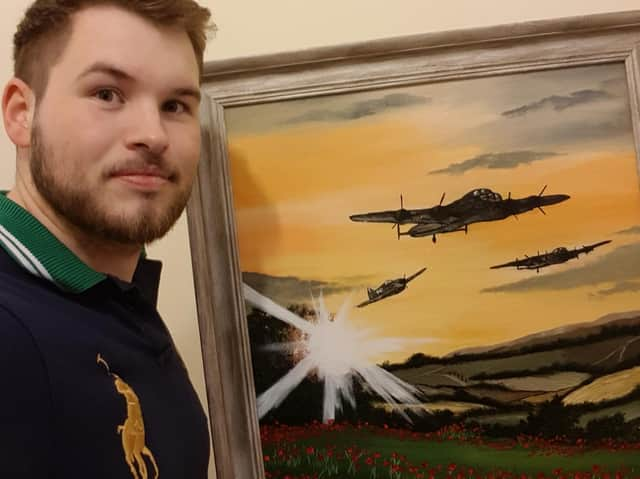 Aylesbury artist, Daniel Vincent (26)
Having taken a break from painting, Daniel decided to reconnect with his former passion during lockdown and created a 24x20 inch board canvas painting depicting a spitfire and two Lancaster planes flying over a field of poppies. Hosted on his public Facebook page, Daniel is auctioning the painting to raise funds for Scotty's Little Soldiers, a national charity which supports children who have lost a parent who served in the Armed Forces.
Discussing his fundraising efforts, Daniel said: "I've always loved being creative and have enjoyed painting ever since I was a child. During lockdown, I began painting once again and created a piece to mark Remembrance Day. I decided to auction the painting to raise funds for Scotty's, and will give it to the highest bidder, which currently stands at £120.
"All money raised through the auction will be donated to Scotty's Little Soldiers, which is an incredible charity that does so much for the children of our fallen heroes. It's easy to place a bid, all you need to do is message me on my Facebook art page before the auction finishes on the 30th November 2020. The painting has been really well received, and I hope to raise as much money for Scotty's as possible."
As well as creating art for fundraising, Daniel has taken part in The Scotty Challenge, which is currently running throughout November. Daniel said: "My colleagues and I decided to take on The Scotty Challenge to raise further funds for Scotty's together. We did the fitness challenge on Remembrance Day, and it included exercises such as squat holds, push ups, bear crawls and thrusters, all while carrying a bergen on our backs! As a team we managed to raise over £150 for Scotty's which we're incredibly proud of."
Scotty's Little Soldiers was founded in 2010 by war widow Nikki Scott, a year after her husband, Corporal Lee Scott, was killed in action. Nikki saw the devastating impact on their two young children and wanted to help others in the same situation.
The charity arranges for bereaved Forces families to go on respite breaks, organises special events, sends presents to the children at extra difficult times of year, offers wellbeing care, as well as educational support and grants. Being part of the Scotty community reminds hundreds of bereaved Forces children they aren't alone.
In recent months, the charity has had to adapt to the current climate and has been using modern technology to arrange exciting virtual events and activities to engage with its members, ensuring them that in uncertain times such as these they are not alone. They've also been providing a high volume of wellbeing support to families who are suffering from enhanced anxiety and other problems due to the current health crisis.
Nikki said: "We can't thank Daniel and his colleagues enough for their fundraising efforts for Scotty's. The Scotty Challenge is always incredibly fun but an ultimate test of strength, so we're so pleased to have had so many of them on board. The Remembrance painting Daniel has created is beautiful, and we're so grateful that he's auctioning it to raise funds for Scotty's. All donations make a huge difference in helping children that have been through so much, so young."