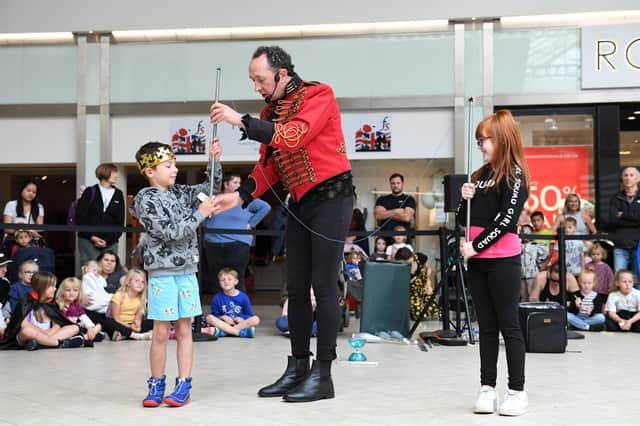 Pictures from summer holidays circus show at Friars Square shopping Centre
Pictures from ringmaster Paddy and Albert the elephant's special performances
Published 3rd Aug 2023, 11:50 GMT
Updated 3rd Aug 2023, 12:27 GMT
Families in Aylesbury were able to enjoy free circus shows at a popular shopping centre yesterday (2 August).
Friars Square Shopping Centre hosted a series of one-man circus shows inside its venue. It is the latest free entertainment event organised at the Aylesbury venue to keep families occupied at a time when school is out.
Ringmaster Paddy, from street performers Box Circus, performed solo shows in front of engrossed youngsters.
Paddy showed off his juggling and diablo skills, while also frequently dancing around.
There was plenty of audience participation opportunities too.
The star of the show was Albert, a gentle giant of an elephant, who was a huge hit with children and adults. The realistic-looking creature roamed around the shopping centre, alongside circus performer Megan.
Albert stands at over two metres tall and makes real elephant noises, as well as representing a full-size version of the exotic animal.
As with most Friars Square events there was also a chance for children to learn some circus skills at a workshop led by Ringmaster Sam.
They were tasked with mastering plate-spinning and some of the more rudimentary diablo skills.
Further information from yesterday's event can be found on the shopping centre's Facebook page and website.
At workshops children could also make and decorate their own elephants and create clown masks for themselves.
Box Circus performs throughout the country at both festivals and private corporate events. Performers adapt to their surroundings, as the company also offers aerial and walkabout circus showcases.