One week to go until Aylesbury's WhizzFizzFest returns
WhizzFizzFest, Aylesbury's annual children's literary and arts festival is back
Friday, 18th June 2021, 12:46 pm
Updated
Friday, 18th June 2021, 12:48 pm
It is just over one week until WhizzFizzFest, the annual family-friendly literary and arts festival, returns online and in Aylesbury's town centre.
There is something for everyone at this year's WhizzFizzFest, on Saturday, June 26, with a selection of events and activities both online and spread around Aylesbury's town centre.
Following the latest UK government announcement about further easing of lockdown restrictions being delayed until 19 July, Buckinghamshire Council would like to reassure festival goers that all events have been coordinated to adhere to Step 3 Covid-19 guidelines.
The festival will be welcoming some of Britain's best-loved story makers to shape the celebrity author line-up.
Join Michael Morpurgo, Emily Gravett, Eoin Colfer and Dan Freedman to explore the magic behind reading and writing, share creative inspiration and to hear about their latest books in WhizzFizzFest's online family-friendly author events.
Or take part in free, online, interactive storytelling with The Story Chef for your chance to cook up a brand-new story, a performance created exclusively for WhizzFizzFest.
Tickets for the online author events include a signed copy of the author's latest book. Plus, access to the online event is granted between Saturday, June 26, and Sunday, July 4, at 8pm so the event can be viewed at a time which best suits each festival goer.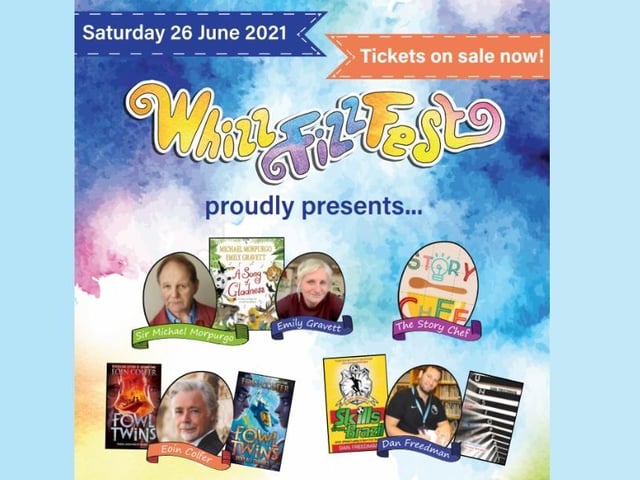 WhizzFizzFest, Aylesbury's annual children's literary and arts festival is back
There's also lots of great things happening on Saturday, June 26, in Aylesbury's town centre including:
> The chance to meet some of Buckinghamshire's own local authors
> Brush Party Ltd family-friendly 'Paint & Sip' sessions in the beautiful walled gardens of Bucks County Museum (tickets available online or on the day at the Festival Information Point, Kingsbury)
> Dance workshops by One Day Creative at Granville Street Church (tickets available online or on the day at the Festival Information Point, Kingsbury)
> An exciting opportunity to get involved with the WhizzFizzFest community art mural sponsored by Hale Leys Shopping Centre
> The WhizzFizz-themed Market
> Street entertainment including WhizzFizz pirates, stilt walkers, the Comedy News Crews and a caricaturist
> A range of art and craft activities and events from festival friends.
Clive Harriss, Buckinghamshire Council's cabinet member for culture and leisure, said: "Buckinghamshire Council has worked hard to bring another year of whizzfizzing fun both online and to Aylesbury's town centre on Saturday 26 June with the safety of festival goers always at the forefront of planning.
"We're delighted to be able to welcome such great literary names to this year's festival and to give visitors the opportunity to watch the author events at a time that best suits their busy diaries.
"Whether it's for an online family-friendly event, or in Aylesbury's town centre, we can't wait to celebrate a shared passion for reading, writing and storytelling with you at WhizzFizzFest 2021."