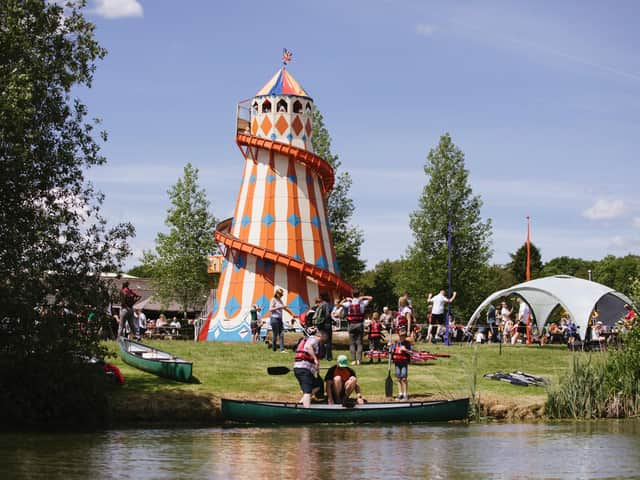 The festival is set in countryside on Blackpit Farm
The Festival of Beer bounces back in Buckinghamshire this summer, promising a feast of music and merriment for the family.
The event, run by Blackpit Brewery, has grown substantially since it began as a one-day event in 2017, with the extravaganza running across three days for the first time.
Returning with their most impressive line-up yet including funk, soul, world and electronic music; Blackpit Brewery has also hand-picked the best breweries and the finest street-food from all over the UK.
Blackpit Brewery has hand-picked some of the best breweries and the finest street-food from all over the UK
Heading up the music line-up are electronic Afro-funk band Ibibio Sound Machine, New York disco pioneers Odyssey and the king of soul and funk himself, Craig Charles.
Other acts confirmed include Greg Wilson, The Cuban Brothers, Rob Da Bank, Don Letts, The Allergies and comedian Milton Jones heading up the comedy stage. Featured breweries include Rivington, Bath Ales, Northern Monk, Squawk and many more.
The Festival of Beer is set in countryside on Blackpit Farm, originally part of the Stowe Estate, boasting thousands of acres of ancient woodland, historic rides and lakes, many of which were designed by Capability Brown in the mid 1700s.
The location is the perfect antidote to a long lockdown, even boasting its own lake which will be open for paddle boarding, canoeing and swimming.
The event offurs plenty of nocturnal entertainment
Unlike many festivals, this setting also has plush toilets and hot showers to create a real home-from-home experience. Add into the mix yoga, wellbeing, live brewing and loco cricket and it promises to be a revitalising and enjoyable weekend.
Festival director Duncan Wheeler said: "We're delighted to be back after a year off last year due to Covid.
"The wide range of on-site activities really sets The Festival of Beer apart from your average boutique festival. Whether it's partying and getting lost in the woods, sit-down dining experiences, recharging with yoga and wellbeing, or taking part in outdoor activities like freshwater swimming, The Festival of Beer is a space to play, indulge, revitalise and make new friends."
DJ Rob Da Bank added: "The Festival of Beer was definitely one of my 2019 highlights and one of the last festivals I DJed at before lockdown – a perfect mix of lovely people, great installations and spot-on beer!"
There's lots to keep children entertained during the festval
Festival tickets for the weekend, Friday September 3 to Sunday September 5, cost from £69 per adult and £20 per child, including on-site camping for three nights. 'Glamping' upgrades are also available via Perfectly Pitched Camping for those who want to just turn up and check in, with no lugging heavy tents around or wrestling with tent poles.