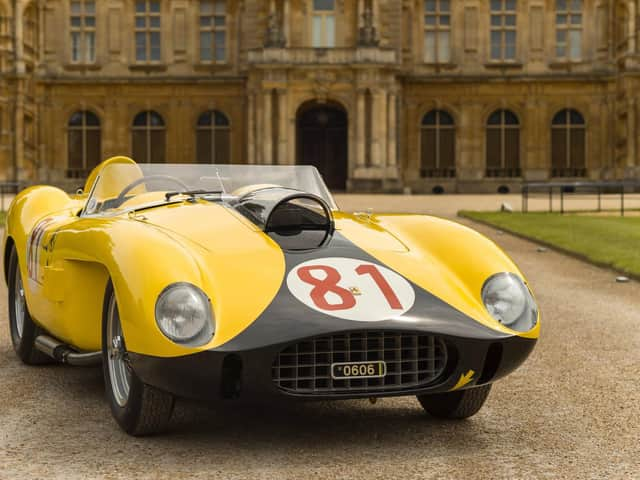 1956 Ferrari 290mm
Event Director Paul Mathers said: " When one thinks of Italian coachbuilders, many iconic names come to mind. But when one considers Italy's most collectable marque, one carrozzeria trumps them all. The son of a carpenter, Sergio Scaglietti founded his eponymous design and coachbuilding company in Modena in 1951, and its location across the road from Ferrari combined with Sergio's accomplished bodywork and design skills was destined to bring him and Enzo together for some of the finest automotive collaborations of the last century. "
He added: " In this year's 70th anniversary, Auto Royale is proud to bring together not one but two classes to celebrate the work of Scaglietti as both a designer and coachbuilder in this year's British International Concours d'Elegance."
Paul said: " Starting out as a body shop, and having caught the eye of Ferrari, Scaglietti soon began building Ferrari coachwork to Pininfarina designs. However because his own designs were both lightweight and aerodynamic, Scaglietti was soon given the job of both design and construction, particularly of Ferrari's race cars.
He added: "In curating a fitting tribute, it soon became apparent that we just couldn't do Sergio's story justice with just one class, and so it is that we have created a class for race cars celebrating design, and for production cars to celebrate the craft of his hand-built coachwork".
"Early headliners for the race car class include some very special cars indeed. Launched in 1954, the 750 Monza Spider, with an original design penned by Dino Ferrari, went on to become the pinnacle of the four-cylinder Ferraris. One of the prettiest of Ferraris race cars, it was designed to be light and nimble, so whilst it was powered by a four-cylinder engine, it was still competitive with more powerful, heavier cars of the period. Another four-cylinder race car, the 500 Mondial, only bore a Scaglietti body on five of its chassis, the particular example joining the Monza distinguished by its victory in the 1955 Ethiopian Grand Prix. Representing the V12 racers, chassis #0606 has had an intriguing life. Starting out as a Works-entered 290MM during the 1956 season, it endured three years of racing and testing before having its engine replaced and being sold to Brazil as a "new" 250 Testa Rossa."
Paul said: " Stories abound in these special classes, Enzo once said that 'Scaglietti wasn't a man who relied on pencil and paper to create his magnificent designs: he worked like a sculptor, fashioning their forms in aluminium'. It's been widely told that he never designed a body before seeing its chassis, allowing the design to drape organically over the car's mechanicals. So what we are seeing in these two classes is not just the work of a designer, but of an artist".
Highlights of the Scaglietti road class include one of the most storied examples to emerge from Maranello.
The 250 GT SWB is a prized addition to any world-class collection, this example being one of only 14 right-hand drive versions built, and one of only two originally delivered to the USA.
It joins, amongst others, a beautiful, and achingly original 250 GT Lusso, last seen achieving wins at the 2011 London Concours d'Elegance at the Hurlingham Club.
In all, 6 race cars and 6 road cars will tell the story of Sergio Scaglietti on the lawns of Waddesdon Manor this July, and with some key showstoppers still to be announced, this will be an event that no Ferrarista will want to miss.