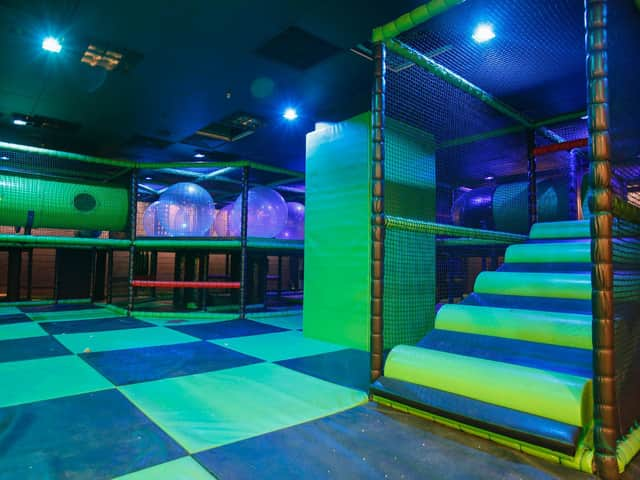 This looks amazing!
The enormous 45,000 sq. ft venue, in the former BHS store in the Friars Square Shopping Centre, cost over a million pounds to refit and has generated 75 new jobs in the town.
It opened briefly last year but had to close after just five days due to lockdown restrictions.
The state of the art indoor park is packed with amazing features including a glow in the dark ice rink, bumper cars, interactive mini-golf, ninja tag, laser quest, interactive football and a 10,000 sq.ft indoor interactive assault course.
The huge venue is one of the first 'super-centres' to be launched by the popular franchise and also includes a large soft play area for toddlers and parents to relax with refreshments and snack from the cafe.
Richard Beese, the co-founder of Flip Out, said: "We are ecstatic to open our doors to the millions of customers we serve every year throughout the UK.
" Our priority is to provide every single person the most fun they can possibly have in a COVID secure environment.
" We want to help put the stress of the last 12 months behind or at least to one side and slip away to a world of high octane excitement in a healthy nourishing atmosphere with great activities, friendly staff and decent food to fuel the fun."
This is a revolutionary, new concept adventure park and I can't tell you how excited we are to be finally opening our doors againin Aylesbury.
"It's been a difficult year for everyone but now we want to give people an outlet to go have some fun and still be safe.
"If you're been stuck at home bouncing off the walls in frustration, then what better way to blow off some steam with the family!"
The new centre is over 2 floors and will run classic Flip Out sessions including fully hosted birthday parties, late-night 'after dark' discos, toddler soft play activities, and group sleepovers.
Will you be heading down?
Around 25 full-time and 50 part-time roles have been created, with opening times being 10 am to 8 pm Monday to Thursday, 10 am to 9 pm Friday and Saturday and then 10 am to 7 pm on a Sunday.
A 3-hour session costs £20 and the park will offer discounted family pass tickets.
Free parking will be provided for 90 minutes in the shopping centre for all Flip Out customers seven days a week when attending a session.
Flip Out cater for kids, teens and adults and have designated themed party rooms, bars and restaurant facilities for mums and dads who might prefer to put their feet up and watch.
The brand has been growing rapidly over the last 18 months and now have 27 sites in the UK with many more planned.
BHS closed its doors in 2016 and the site has been used as a charity shop among other things.