Village club leading the way with Walking Tennis
LTA film Lacey Green & Loosley Row Tennis Club for national launch of sport's slower version
Friday, 18th June 2021, 6:42 am
Updated
Friday, 18th June 2021, 6:44 am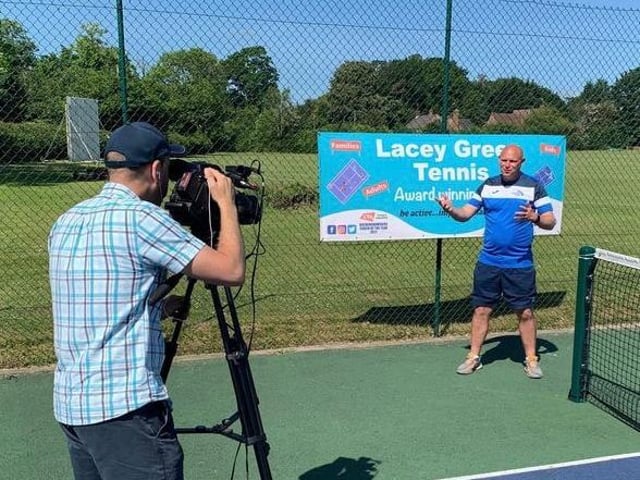 Head coach Dan Smith is interviewed by the LTA
Following Lacey Green & Loosley Row Tennis Club's recent success in the Lawn Tennis Association (LTA) British Tennis Awards, the venue has again been recognised by the LTA for its Walking Tennis programme.
On 9 June 2021, the club's session was attended by an LTA film crew to form part of their national launch of Walking Tennis, capturing footage of the session as well as conducting coach and player interviews.
Walking Tennis is a relatively new concept — invented by two LTA accredited coaches in 2018 who later formed the Walking Tennis Association in 2019 — and Lacey Green & Loosley Row is one of only a few clubs in the country to offer it. With interest growing in the activity, the LTA has taken over the Walking Tennis Association and will be using the footage from its filming session at Lacey Green & Loosley Row Tennis Club to form its promotional material for the national launch later in June 2021.
Players enjoying Walking Tennis at Lacey Green and Loosley Row club
Walking Tennis is a slower version of the traditional game using lower compression balls and allowing two bounces, both of which must be inside the court. Players must not jog or run to any balls and are not permitted to have both feet off the ground at any one time. It is designed so that anyone, regardless of age or fitness level, can take up the sport. It is especially suitable for complete beginners, older people, those with joint replacements or recovering from surgery, as well as pre or postnatal mothers.
Dan Smith, head coach at Lacey Green & Loosley Row Tennis Club, said: "Walking Tennis is great because it opens up the sport to a group of people who might have thought they couldn't play. There are so many physical, social and mental health benefits associated with Walking Tennis, which is why I'd encourage anyone considering a new activity to give it a go."
Club chair Nigel Glenister added: "We've seen a huge increase in new members over the past year and Walking Tennis has definitely had a part to play in that, so much so that we've created a membership category specifically for these players. It's great to see the courts busy with new members making use of the membership package."
Walking Tennis sessions at the club are held on Wednesdays at 10.30am, and both members and non-members are welcome. The 60-minute session is £5 on a pay as you go basis with no need to pre-book and the first session is free.