Wood's all set to take on legend Valentino Rossi
​Moto GP legend Valentino Rossi has been confirmed as a competitor in Michelin Le Mans Cup 'Road to Le Mans' races at the Circuit de la Sarthe in June.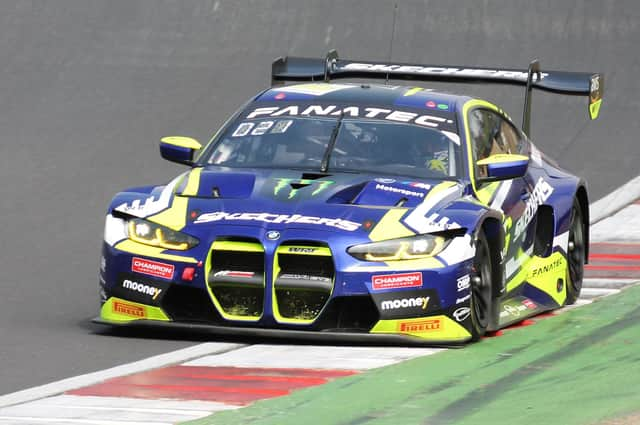 A multiple world champion on two wheels, Rossi switched his attention to GT racing for the 2022 season and he will join the Michelin Le Mans Cup grid as a guest racer at Le Mans with Team WRT in a BMW M4 GT3.
The Italian, who scored his best GT result to date at Brands Hatch on Sunday in a round of the Fanatec GT World Challenge, will share driving duties at Le Mans with well-known French racer, Jerome Policand.
The duo's BMW will be on of 55 cars that will take part in races at the Circuit de la Sarthe during the event's centenary celebration event, with 50-minute races taking place on Thursday 8th and Friday 9th June. Rossi's appearance in the 'Road to Le Mans' races is seen as a major boost for the Michelin Le Mans Cup competition, that started at the Circuit de Catalunya in Spain during April.
Vale-based racer, James Wood, who will be on-track at Le Mans for the Steller Motorsport Audi team, is excited about Rossi's appearance for the races, saying, "Valentino Rossi is a huge figure in motorsport. He has fans around the world, all very passionate, and his participation at Le Mans will add much interest to an already sold-out event.
"Valentino scored his best result of his GT career just last Sunday, and I know he will be quick at Le Mans. The BMW M4 GT3 is a car well suited to the Le Mans track, and certainly the famous number 46 will be one to watch."
Wood will line-up for the Road to Le Mans races as a driving partner to Sennan Fielding, and the duo were point scorers in the opening round.
Wood says they hope to repeat the performance in France, and at Le Mans, adding, "We know we can improve overall, and we are currently working on data ahead of Le Mans to help us. We know what we have to do, although we will not test the Audi R8 before the race week. We can't wait to start putting our plans into practice and getting back on-track."
*Mark Biswell was in action at Donington Park last weekend, scoring results in two NG Road Racing Club races. Riding his Bizzle Bikesport Yamaha FZR600R, the Quainton racer recorded ninth and seventh place finishes overall in Love Life & Ride Pre-Injection 600 with Blackbird Corporate Championship races. Biswell's season will continue at Pembrey in South Wales next month.
*Tom Ingram will be back on-track this weekend, when the Kwik Fit British Touring Car Championship season continues at Snetterton in Norfolk. The local racer is currently placed second in the BTCC Drivers' Standings with his Bristol Street Motors EXCELR8 Hyundai.