Top six spots for Vale duo at Donington Park in GT Championship
Leicestershire's Donington Park was the venue for the final round of the action-packed British GT Championship season on Sunday, when the 'Donington Decider' race saw drivers contest a frantic two-hour race around the demanding parkland track.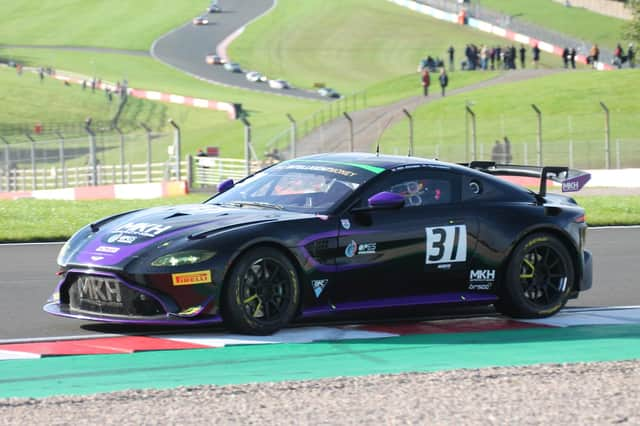 ​Starting from pole position for the race was the Vale-based Beechdean Aston Martin Vantage GT3 of Andrew Howard and Ross Gunn. The duo recorded the fastest time in qualifying on the previous day to bag the top spot for the season finale.
Howard lost out to the BMW M4 GT3 of Darren Leung on the opening lap, when the Century Motorsport car muscled its way into the lead as the pack plunged down Donington's Craner Curves. Howard was able to settle into second position, and he managed to soak up the pressure from cars behind.
A Safety Car period caused by rivals spinning off the track was introduced prior to the mandatory round of driver change pit-stops by race officials, and Howard then pitted to hand over driving duties to Aston Martin factory-supported driver, Gunn.
Gunn re-joined in the lower reaches of the top ten, and he set about clawing back positions with a determined drive that saw him pass the chequered flag in sixth position, a result good enough for the duo to be classified eighth overall in the end of season championship standings.
Elsewhere on the grid, British Touring Car Championship star, Tom Ingram, was a welcome addition to the British GT Championship for the weekend - making a one-off appearance in an Aston Martin GT4 alongside good friend, Ron Johnson.
A popular figure in the paddock, Ingram drove the MKH Racing Aston Martin Vantage in the second half of the race and was left with work to do, after Johnson suffered an unlucky spin during his stint in the car. Heavy rain prior to the race weekend saw Donington Park's trackside grass very wet, and Johnson's spin saw the Aston stuck in mud that required help from track marshals to allow the car to continue.
Finishing 27th at the end, Ingram said, "I really enjoyed taking part here at Donington. Very different to racing in the BTCC, yes, but great fun and it was good to meet so many GT fans during the pre-race driver autograph session. I'd love to have another go if ever I have the opportunity."
The British GT Championship season is now at an end, and by finishing second on the road at Donington, Darren Leung and Dan Harper were able to claim the 2023 title with their BMW M4 with a total of 176 points ahead of James Cottingham (Mercedes) 163.5 and Jonny Adam (Mercedes) 162. The 2024 British GT Championship season will start at Cheshire's Oulton Park next April.