​Silverstone welcomes historic cars to celebrate 75th anniversary
​The Silverstone Festival provided three full days of top class international historic motor racing last weekend, with 20 races taking place around the track's historic Grand Prix circuit layout (write James and Freddie Beckett)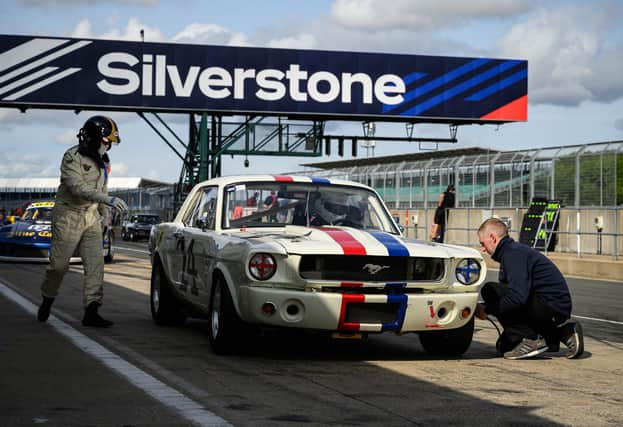 ​Headline races for Historic F1 and Masters Endurance Legends were complimented by races for historic single-seaters, sports and saloon cars - with action racing into dusk on both Saturday and Sunday.
The Silverstone track is celebrating its 75th anniversary this year, and a number of famous cars were on display and in action on-track to mark the occasion - notably the BRM V16. The famous British Racing Motors car was designed to challenge Ferrari and other international teams for Grand Prix glory in the formative days of the FIA F1 World Championship, and famously made its track debut at Silverstone in 1950 witnessed by King George VI, Queen Elizabeth and Princess Margaret.
Sadly the car never gained Grand Prix success, but its amazing sound was once again heard at Silverstone on Sunday afternoon, when Rob Hall demonstrated a Hall & Hall built car on - undoubtedly one of the highlights of the track's 2023 season.
*Tom Ingram won the second Kwik Fit British Touring Car Championship race of the weekend at Donington Park on Sunday to maintain the fight to retain his championship drivers' title.
Driving a Hyundai for the Bristol Street Motors with EXCELR8 team, the Vale-based racer was classified third in the day's opening race before taking his victory. A seventh place finish in the final 'reverse grid' race around the 1993 European Grand Prix track now places Ingram 42 points behind series leader, Ash Sutton (Ford Focus), with race meetings at Silverstone and Donington Park remaining.
*Steller Motorsport endured high temperatures of over 40 degrees at the MotorLand Aragon circuit in Spain last weekend, when they participated in the latest round of the Michelin Le Mans Cup.
Sennan Fielding and Mark Cole drove the team's Audi R8 LMS GT3 to an eighth place finish in the GT3 class after the car suffered two drive-thru penalties during Cole's opening stint due to start and pit exit infringements.
The result was somewhat disappointing for the local team, who started the week by setting the fastest GT3 time in the opening Free Practice session. Winners of the Michelin Le Mans Cup race overall was the Nielsen Racing LMP3 Duqueine M30-Nissan driven by John Melsom and Matt Bell, with the Ferrari of Hiroshi Koizumi and Kei Cozzolino winning GT3. Steller's season continues at Spa-Francorchamps in Belgium in three week's time.