Manderson wins Junior Championship in his first year
Milo Manderson takes his first championship win in his first year competing as a junior. Achieving the unexpected in his first year.
Watch more of our videos on Shots! 
and live on Freeview channel 276
Visit Shots! now
The MSUK Shenington Kart Club championship started back in January with 10 rounds. Milo had managed to get on the podium 3 times and was very competitive in all the other rounds.
Milo Manderson managed to surprise everyone at the Banbury based kart track on his MS Rotax kart. Being one of the youngest at 12 years old competing against those much more experienced and up to 16 years old, and also being a privateer competing against other large teams. A championship win was not the expectation at the beginning of the year. Milo needed to get used to his new MS Rotax kart which is much more powerful and heavier than he was used to. As each round past Milo worked very hard in keeping his head down and bringing home the points, and getting 3 podium finishes.
Over the last 10 months it was all still dependent on the final race. Milo went into the final in 3rd place in the overall standings, which was very impressive. He managed to keep his calm and stay focused with the forever changing weather conditions, get some great overtakes in, and collect enough points to boost himself up to the championship winner.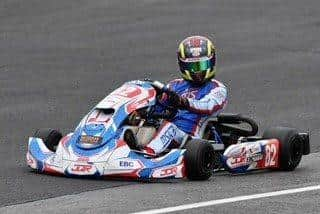 Also this year Milo has competed in 2 other karting championships. One being a national championship called "Superone" which has taken Milo all over England, Wales and Scotland. Milo finished 5th in this championship which is also another great achievement for a first year, and as a privateer against some big teams with big budgets. He will be going to Silverstone this weekend for the Trophy presentation.
The next championship is Kimbolton MSUK which will finish next month, Milo is currently 3rd.
Milo just relies on his Dad to prepare his kart. They both have to work really hard together giving each other feedback on what is going to work the best on the day. Each track is a different set up, plus all the different weather conditions we have to face. Doing 3 championships in 1 year means not a lot of time to test different set ups. Some decisions that have been made may not have been right, and due to a very tight budget new tyres are not always an option, but Milo pushes very hard and makes the best of what he has. He wants to win really badly, he works very hard on and off the track and gives it everything he has.
You can follow Milo on his Facebook page "77 milo's per hour" and anyone that might be interested in sponsoring him can get in touch on there.