Mallory Park and Goodwood host Vale-based racers
It was a busy weekend of historic race action last weekend for regional racers, with both a British Historic Racing event at Mallory Park and the 80th Goodwood Members' Meeting taking place.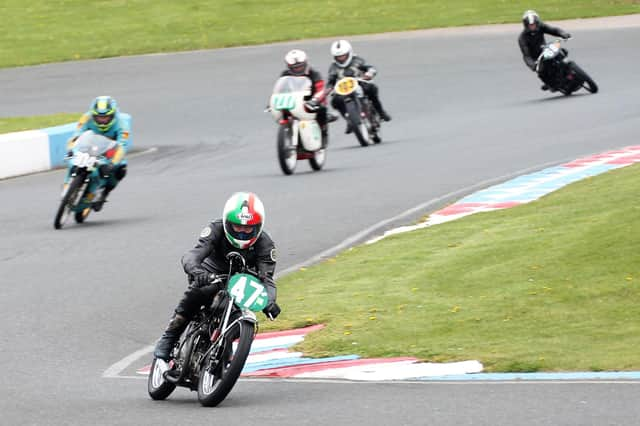 Mervyn Stratford was at Mallory Park to ride in motorcycle races, while James Wood was at Goodwood to drive both Aston Martin and Lotus cars.
It was a busy Mallory Park weekend for Stratford, who rode in four races at the two-day race event in Leicestershire. Riding his 1934 261cc Rudge, Stratford scored a best result of third, recorded in his opening race on Sunday morning.
The Oakley racer also finished fifth in two races, and seventh in another, on what was a successful opening British Historic Racing weekend of the season.
At the Goodwood Motor Circuit James Wood drove an Aston Martin Ulster in the Trofeo Nuvolari for pre-war sportscars, before driving to a strong fourth place finish at the wheel of a Lotus 15-Climax in the Salvadori Cup for 1950s Sports Racing cars.
*Lewis Fox raced a Team Fox Racing-entered Ray GR14 Formula Ford at Silverstone on Saturday in United Formula Ford Championship races. Impressive during qualifying, the weekend was his first outing of 2023, and Fox finished sixth in his first race. He later claimed fourth place in his second race, the coveted Jim Walsh Trophy. A race won by Lucas Romanek in a Van Diemen car.
*Moving quickly on from Goodwood, James Wood steps up a gear this weekend at Barcelona's Circuit de Catalunya in Spain, when he will make his debut in the Michelin Le Mans Cup. The opening round of the 2023 Automobile Club de l'Ouest sanctioned endurance series takes place on Saturday evening, with free practice and qualifying sessions taking place tomorrow (Thursday) and Friday.
Wood will drive an Audi R8 GT3 for the Steller Motorsport team, sharing driving duties with reigning British GT4 champion, Sennan Fielding.