Ingram falls just short in BTCC title battle
Tom Ingram was unable to prevent Ash Sutton from racing to the 2023 Kwik Fit British Touring Car Championship title at Kent's Brands Hatch on Sunday.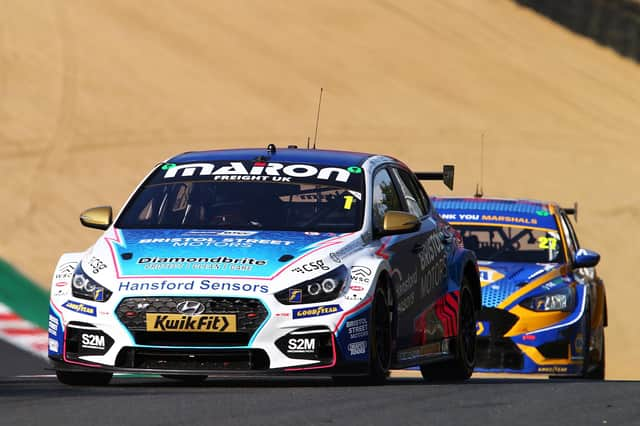 Ingram arrived at Brands for the final BTCC race weekend of the series placed second in the points standings, and the Vale-based racer was in need of a near miracle to overhaul Sutton's leading advantage that would enable him to retain the title he had won in style twelve months ago.
Sadly for Ingram, Sutton was in fine form and the NAPA Racing Ford Focus racer streaked to victory in the opening race around the 2.6-mile Brands Hatch Grand Prix Circuit to score enough points to seal the championship.
Finishing second on the road, Ingram at the wheel of his EXCELR8 Bristol Street Motors Hyundai, said, "Hats off to Ash for a great season, I did everything I could in this race to try and win. He was just faster than us."
The result was repeated in the day's second race, with Sutton further extending his advantage at the top of the points table, before Jake Hill (BMW) secured victory in the third and final race of the year.
Sutton's title drive saw him bag a total of 446 points from the 30-race season, with Ingram classified as runner-up with a score of 400. Jake Hill completed the championship podium with a score of 372.
The British Touring Car Championship now heads into its off-season, before preparations begin for the 2024 season that will commence at Leicestershire's Donington Park in April.
*Tom Ingram's season is not over though, and the BTCC race winner is set to make his British GT Championship debut at Donington Park in ten day's time. Ingram, who has been seen previously in the MSVR GT Cup, will drive in the British GT Donington Decider race in an Aston Martin Vantage GT4.
Sharing driving duties with Ron Johnson, the duo will represent the MKH team and Johnson said, "I am really happy that Tom has agreed to drive with me at Donington. I am really looking forward to the weekend, and it will be good to see how one of the best touring car drivers in the world performs in a GT4 car."
* A number of Vale-based Historic racers will be in action at Silverstone this weekend when the Historic Sports Car Club (HSCC) hosts their Championship Finals race meeting. Qualifying and racing will take place around the Silverstone National Circuit from 9 a.m. on both Saturday and Sunday.