​Double delight for Biswell
​Mark Biswell scored two impressive race victories at a rain-soaked Mallory Park on Saturday, when he rode his 600cc Yamaha in the latest rounds of the East Midland Racing Association (EMRA) Club Championship.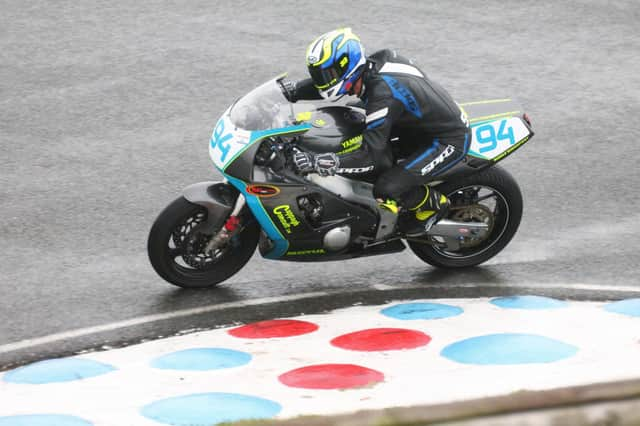 ​In treacherous conditions the Quainton-based racer rode superbly to score maiden victories on his Bizzle BikeSport-entered machine in races for Pre-Injection machines, while also scoring two strong second place finishes in multi-class events for GP80-450 and Classic Era bikes.
Biswell has been an frequent visitor to Leicestershire's Mallory Park in recent years, contesting Thundersport GB events before the organisation's demised ahead of this season, and a number of EMRA races. Putting his ability to ride well in the rain to good use, the local track ace clocked the fastest times in qualifying to put himself in pole position for the day's racing.
In Pre-Injection races, Biswell was the class of the field. Leaping away to lead, Biswell stretched his advantage to a margin of twenty-one seconds to win his first race ahead of Tim Bradley (Honda 600) and Andrew Denyer (Yamaha 750).
Although his winning margin was slightly less in the second group race later in the day, victory was still 12 seconds ahead of the chasing Bradley, and third-placed racer Ben Parsons (Kawasaki 600).
However, despite leading away at the start of both GP80-450 and Classic Era races to lead, Biswell was later caught and passed in both races by the nimble Honda 125 of George Bedford, a rider who also demonstrated his own skill around Mallory's fast lakeside track to win twice.
Biswell was also the lucky recipient of the Jim Noice Trophy, an impressive shield presented annually by the Noice family for a race held at Mallory Park. Speaking afterwards, Biswell said, "It was a lovely surprise to be awarded with the trophy, and I would like to thank everyone involved."
*The EMRA Club Championship season continues at Mallory Park at the beginning of September.
*Tom Ingram will continue his Kwik Fit British Touring Car Championship season at Knockhill this weekend, when the BTCC racers make their annual trip to Scotland. Ingram is currently placed second in the points standings with his EXCELR8 Bristol Street Motors Hyundai, and the Vale-based racer is hopeful of a strong points haul from three races on Sunday.