Aylesbury's Biswell seals podium places
​Aylesbury's Mark Biswell made a fine start to his 2023 season of motorcycle racing at Brands Hatch last weekend, riding his Bizzle Bikesport Yamaha FZR600R in three events during the Completely Motorbikes NG Road Racing season opener.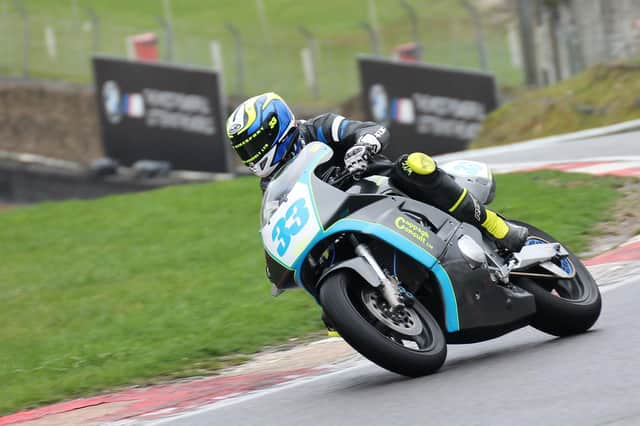 Following the demise of the Thundersport GB race series at the end of 2022, Biswell has been forced to switch to NG Road Racing-organised meetings over the winter months, and lined-up in Kent to compete in the Love Life & Ride Blackbird Corporate Pre Injection 600 and SuperTwins Championship.
Seventh fastest in qualifying, the Quainton-based racer raced to a seventh place finish in his opening race on bright and dry Saturday afternoon around the 1.2-mile Brands Hatch Indy Circuit - however heavy rain fell overnight, and track conditions were very much different for Sunday's action.
The local racer excelled in his opener though, racing through to finish in second position behind race winner, Jamie Ingham (Ducati), a position he repeated in his second race later in the day.
Speaking afterwards, Biswell said: "It was quite a late call to decide to race at Brands Hatch, and it's a circuit I haven't been to for quite a while.
"I was pleased with how the weekend went. I don't dislike racing in the rain, and I things went well and I was pleased with my pace for the start of the season. My Dad has not been too well recently, and I raced this weekend for him and I know he will be pleased that I enjoyed a successful trip to Brands Hatch."
Biswell's season of riding in NG Road Racing events will continue at Wiltshire's Castle Combe towards the end of April, the rider adding: "Castle Combe is another circuit I haven't been to for quite a while. I know it is very fast in places, and I am looking forward to continuing my season there next month."
*James Wood was on-track at Goodwood last week, driving a pre-war Aston Martin Le Mans car in preparation for the track's approaching Members' Meeting on April 15-16th.
Wood was asked to drive the Ten Tenths team car for the day, and took to the track in difficult wet weather conditions.
Wood is expected to drive cars at the prestigious Members' ,Meeting, that will kick off the annual season of motoring events at the Goodwood venue that also include the Festival of Speed in July and the Revival in September.