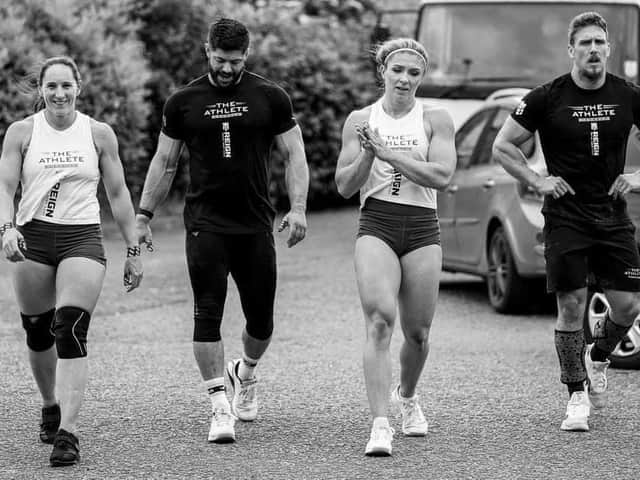 The CrossFit Aylesbury team have qualified for the World CrossFit Games in the United States
An incredible team from Aylesbury have qualified to take on the world's best CrossFit athletes in America next month.
They ranked second in Europe to earn a place at the World CrossFit Games in Madison, Wisconsin.
Only five teams from each of eight continents will battle it out in the sport's pinnacle event, knowing that just being in the final is a phenomenal achievement, with 1,000 UK gyms and 20,000 worldwide having all been fighting for a top spot.
In three online rounds of qualification since February, the CrossFit Aylesbury quartet undertook a series of fitness challenges.
During the lockdown, until they were able to reopen on April 12, the team members had to train from home in gardens and garage gyms.
But now, Maddy Harris, 28, Charlotte Spence, 34, Owen Roberts, 30 and Mike Catris, 33, are delighted to have booked their place after the final three days of tests.
Team co-ordinator Owen Jones, who runs CrossFit Aylesbury, said: "We were on the edge of our seats last Sunday evening waiting to hear. It's just a relief really.
"We have been trying to qualify for a few years and we knew we would be close again.
"We've been just outside the top five before. It's not really sunk in for the guys yet.
"We're going through visa applications and arrangements and hoping it'll be okay with Biden and Boris! I think it will only sink in when we know we can get on the flight."
Their success is the culmination of 10 years of dedication, training three hours a day, six days a week.
A teacher at Wycombe High School, Harris co-owns CrossFit Aylesbury where Roberts and Catris are coaches. Spence is in the Army.
"The final will be seven days of events, with varying tests which are a complete unknown and could be anything from weightlifting, gymnastics, cycling, endurance and everything in between.
"It's a bit like a decathlon, only more extreme and varied to test all realms of fitness." he added.
For more information about the World CrossFit Games, visit the website https://games.crossfit.com/article/2021-nobull-crossfit-games-returns-cbs/games