​Wells thrilled by first Aylesbury victory
​Jack Wells was full of praise for his Aylesbury United players as they secured their first win of the season on Saturday.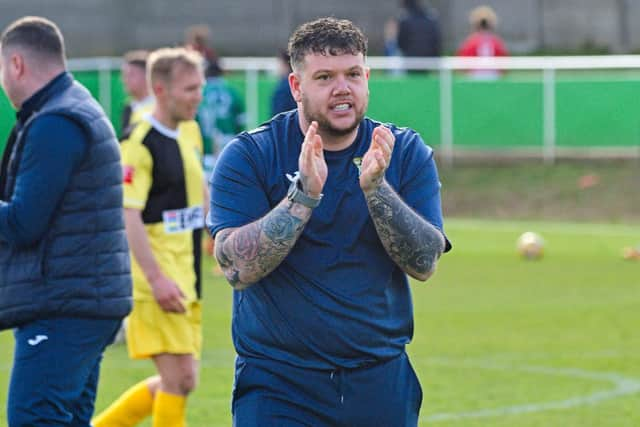 ​The Ducks were 3-2 winners at North Leigh, with two penalties from David Pearce and a strike from Rocko Tamplin proving the difference as well as a crucial penalty save by James Callan with the Ducks leading 2-1.
And speaking to the club's media post-match, Wells was relieved to get points on the board.
He said: "It went exactly how we expected it to. We took a lot of stick after the Hertford game because we set ourselves up on a low block and it's not always pretty, but I've tried to be reactive to the things that are happening around me and we've conceded a lot of goals early on.
"So Hertford was about being really difficult to break down and frustrating them but it didn't work that day.
"Then we had a good 70/75 minutes against a good Kings Langley side and then we felt that if were going down the hill today and could be in the game at half-time then we'd look to turn them and bring on a bit of pace from the bench which is what we've done.
"But we had to be in the game and to go in at 1-0 up probably wasn't something we expected but credit to the lads, but then North Leigh scored earlier and it's then about character.
"The reality is we've got to do those bits to be able to be in games and the mentality is what's won us the game.
"We always said that when we get it right, stay in games and stop the silly mistakes, then that's when we'll get points and we've taken all three."
Attention now turns to the FA Trophy this weekend with a tough tie for the Ducks.
They will host Bedford Town, who are flying high at the top of the SPL Division One Central with four wins in four games in the league under new boss Lee Bircham, who made a raft of changes to the Eagles squad after their relegation from the Premier Division last season.
Aylesbury then currently have a long gap before their next scheduled fixture on September 30, although FA Trophy progress and potential rearrangement of future fixtures could mean they'll play again before that.