Ladies see off Buxton in FA Cup encounter
​Chesterfield Ladies reached the second round of the Derbyshire Women's County Cup with a comfortable 4-0 victory over Buxton Women at The Tarmac Silverlands stadium on Sunday afternoon.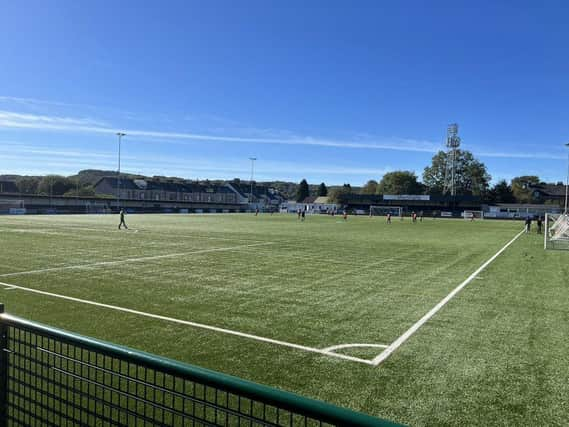 ​Goals from Eleanor Abercrombie, Hannah Baker and a brace from Georgina Williams earned the Blues victory as they began their defence of the cup.
Chesterfield were in control of the game from kick-off and had some efforts on goal early on as Sophie Marshall and Imogen Fowler both had attempts saved by the goalkeeper within the first five minutes.
In the 12th minute Maddie Falleth was presented with a good opportunity for the visitors and she forced an excellent double save from the Buxton goalkeeper who was booked in for a busy day at the office.
The deadlock was broken 21 minutes in when Abercrombie scored a tap in after an in-swinging corner fell nicely to the defender just half a yard from goal.
Just five minutes later Chesterfield doubled their lead. Millie Standen threaded a perfect through ball for Williams and the striker displayed great composure to take it round the goalkeeper and convert.
In the 38th minute, Fowler fired a strike from the edge of the box which cannoned off the crossbar while just before half-time Baker had a one-on-one opportunity which forced a great save out of the Buxton keeper, who was having a terrific game.
The second half continued with Chesterfield firmly in control of the match as Chelsea Bailey and Abercrombie both had efforts on goal fly over the crossbar.
On the hour mark the Blues secured their third goal as Williams picked up the ball on the edge of the area and unleashed a shot which looped into the top left corner for a brilliant finish.
Just two minutes later Chesterfield extended their lead to 4-0 as Baker fired a low driven shot from the edge of the box into the back of the net.
The visitors were presented with an excellent chance to score a fifth in the 78th minute when a low cross found Dawn Underwood in the box; however, she sliced her shot wide.
Attention now turns to Chesterfield Ladies' big FA Cup final qualifying round game at home against Nottingham Trent University Women on Sunday 22nd November.