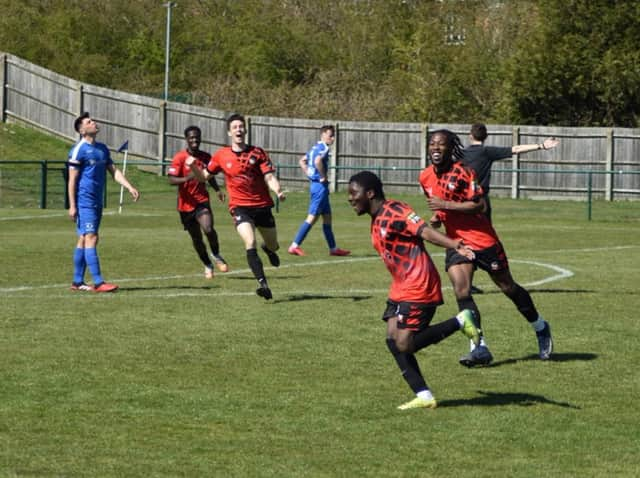 Kevin Owusu celebrates after scoring the winner for Aylesbury Vale Dynamos at Dunstable Town on Saturday (Picture by Iain Willcocks)
Back in fine form after the enforced break, Aylesbury Vale Dynamos have started with two wins out of two in the Gladwish Spring Cup.
Manager Phil Granville's side beat Baldock Town 4-1 away in their opening fixture, including a hat-trick by Dan Lambeth, who followed that last weekend with two more in Dynamos' 3-2 victory at Dunstable Town.
This Saturday Biggleswade United will be the visitors to Haywood Way, hoping to dent their hosts' early 100 per cent record.
Aylesbury Vale Dynamos' Dan Lambeth (right) celebrating one of his goals with Alfi Touceda in the first team's Gladwish Spring Cup game at Dunstable on Saturday. (Picture by Iain Willcocks)
Dynamos' remaining Group A games will both be at home against Shefford Town & Campton on May 1 and Newport Pagnell Town on May 8.
The winners and runners-up in Group A and B will make the play-offs on May 15.
Against Dunstable a new-look back three saw Luke Nugent, Linus Kusi and Jake Baldwin as the team tried a different formation.
Dynamos went ahead in the 28th minute through Lambeth, set up by an important interception by Alfi Touceda.
Lambeth's second for 2-0 just before half time was a thumping header from Charlie Jackson's free kick, which gave the keeper no chance.
Early in the second half Dunstable came back with a ball that eluded the defence and lobbed keeper Dan McAteer.
And pressure finally told again when a corner wasn't picked up and Dunstable headed home to make it 2-2. The hosts were now clearly on top and searching for a winner.
Dynamos needed to find an answer and with just over 10 minutes left, Emmanuel Gbejuade raced down the right and his cross found Dan Lambeth but his header was just wide.
On 86 minutes Dunstable had a huge chance. The attacker raced through but just as he was to hit his shot Linus Kusi made a fantastic tackle to thwart the attempt with Jake Baldwin clearing the ball.
Gberjuade then had a chance as he raced forward and was taken down, but no decision given.
As the match entered four minutes of injury time, it was the Dynamos on the attack.
Dave Brown won the ball in the middle and found Emmanuel Gbejuade, who moved the ball to Kevin Owusu on the left flank. Some great skill saw him run along the edge of the box and unleash a stunning strike, over the keeper and into the top right of the goal to secure a thrilling win.
Jack Elsey came on for the final minutes for Gbejuade, to see out the match and won an important header in the dying seconds with Jake Baldwin again making the final clearance.
The second week back and the sun made it a lovely morning to watch football, however, the results were a mixed bag this weekend, writes Iain Willcocks.
The U18's lost at home to a resolute Risborough Rangers team 2-0 and the U17's also struggled to find form as they went down 3-1 at Haddenham.
The U16's Dynamos had a great 7-1 victory against Marlow Royals, however, the match was delayed due to a bad clash of heads between a Dynamos striker and Marlow Goalkeeper, with the latter being taken to hospital. Aylesbury Vale Dynamos wishes him a speedy recovery.
In Berkhamsted, the U16's Youth had their first game back with a 6-3 victory over their opponents making Manager Nick Ringsall, a happy man.
Both U15's teams suffered rare defeats. The depleted Dynamos, without both their keepers, losing 5-0 at AFC Lightning and the U15's Youth going down 2-1 to Beaconsfield.
Some good news as the U14's Dynamos secured a battling 2-1 victory over AFC Lightning and they played their match on the main stadium pitch which was great for the team.
The U14's Youth followed suit with the same scoreline winning over a resolute Totteridge team. Finally for the U14's, Andy Collins U14's Colts made it a hat-trick for that age group defeating Aston Clinton in a local derby, 5-2.
Under 13's Dynamos had an off day by their standards and lost to Risborough Rangers 3-1, whilst the other Division 1 U13's Athletic team lost by the same scoreline to Taplow Utd despite being 1-1 with five minutes to go.
The U12's Colts lost a close match 2-1 against Ruislip Rangers. Kain scored for Dynamos in only their second loss of the season.
U11's Dynamos kept their excellent season going with a big 7-2 win against Tring Tornadoes, made even better as they were 2-0 after 10 minutes.
U11's Youth Manager, Martyn Jones, was very happy with a hard fought 2-1 at Chesham United and the U11's Colts were unlucky to lose 3-2 to Stokenchurch.
Nathan Poole was happier as last week's heavy loss was forgotten and his U11's Athletic stormed back with a 4-3 victory at Chesham Athletic.
The U10's Dynamos had a very close set of games with Aylesbury United with three draws and a loss, with some very exciting football on show.
The U8's Dynamos had a mixed set of results against Hughenden Valley. Frank Ferdinand's team won and drew their games, with Paul Knowler's team losing both their matches.
The U8's Youth had better fortunes at home against Marlow Youth winning all four matches, scoring 14 goals and only conceding four.
Finally, the youngest age group, U7's won two games, drew one and lost one against Prestwood Colts with young Bob scoring five goals this week.
Cristian scored three, Denis two and Maxwell, Manni and Callum all getting a goal each.