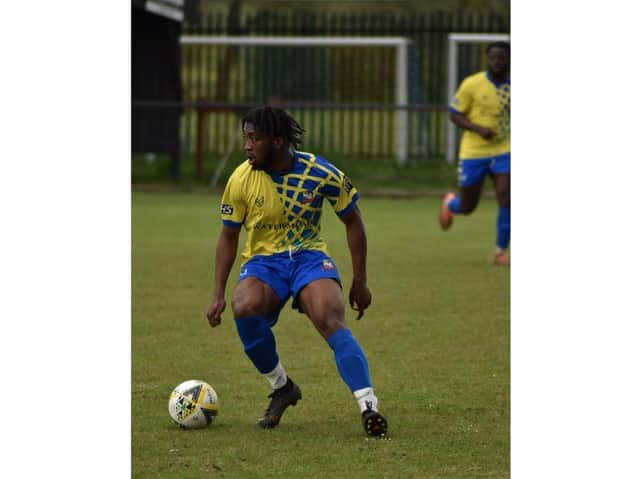 Manny Gbejuade in Aylesbury Vale Dynamos' semi-final against London Lions (Picture by Iain Willcocks)
There were unexpected defeats for both Aylesbury Vale Dynamos and Risborough Rangers on Saturday – bringing their seasons to a close.
In their Gladwish Spring Cup semi-final, Dynmos went out with a whimper, losing 4-0 at home to London Lions, after being 1-0 down at half time.
It's a disappointing end to the tournament for Phil Granville's side who had qualified top in their group games and been in great form.
Dynamos' Terry Griffiths in last week's defeat by London Lions ( Picture by Iain Willcocks)
There were better fortunes for the club's North Bucks team who played the Premier Division Cup semi-final on Saturday and won 1-0 away at Towcester.
Dynamos started well and had a couple of early chances. At the other end they soaked up the pressure with some superb defending from Frank Blacher and a string of saves by Mark Griffin, Dynamos' goalkeeper.
The second half saw Dynamos up their game and a superb run and pass from Josh Gray, set up Matty Fellows to score the only goal of the game.
The cup final is this Saturday (May 22) at Newport Pagnell's ground kick-off 12.30pm, when Dynamos face an unbeaten Hanslope and are hoping to see a few fans turn up to support them.
Lewis Workman heads over in last week's Gladwish semi-final
After a fantastic run in the competition and sailing through earlier games, Risborough Rangers surprisingly came unstuck on Saturday, losing 3-0 at Kidlington Reserves in the Hellenic League Bluefin Sport Challenge Cup, quarter final.
Mark Eaton's men were just a goal down at half time but couldn't find a way back.
The first team now have a break until action resumes with pre-season friendies in July.
Hopes of silverware this season rested on the Under 18s Youth team, but they were beaten 4-0 by Chalfont St Peter in the Allied Counties Youth Football League Plate quarter-final on Thursday evening.
Risborough Rangers Under 18s Youth team