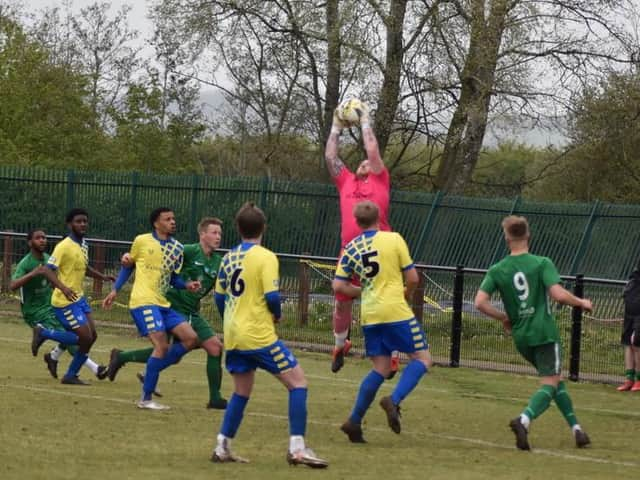 Goalkeeper Dan McAteer collects the ball for Aylesbury Vale Dynamos against Newport Pagnell (Picture by Iain Willcocks)
Risborough Rangers have been drawn away in the Hellenic League Challenge Cup quarter-final this Saturday against Kidlington Reserves.
Having finished top in the group stages, they beat Abingdon Town 6-0 at home on Saturday in the first of the Bluefin Sports knockout rounds, to earn a place in the last eight.
Laurence Clark opened the scoring for Rangers in the eighth minute, before an own-goal made it 2-0 after half an hour.
Brian Haule added the next three minutes later with Clark netting his second on 52 minutes. Ben Hammond headed in to make it 5-0 on the hour and four minutes later Alex Kedzierski completed the rout at the BEP Stadium.
Even with the big margin of victory, manager Mark Eaton could still see room for improvement, with his side's play being a little inconsistent and lacking the flow of recent games.
"But it's a knockout tournament and we've got the job done, which is the most important thing," he said, stressing how important this competition is to the club, after being denied the chance of the league title and cup silverware when the last two league seasons were curtailed because of the pandemic.
"The two additions to our squad this season, Sean Coles and Alex Kedzierski have done exceptionally well.
"We knew if we were going to bring anyone in they would have to be the right characters as well as the right players and they have fitted in great with the lads.
"Alex's performance against Abingdon was out of this world.
"The squad is really sharp, although we've got a couple of niggling injuries, but overall we are in good shape."
Aylesbury Vale Dynamos, who have already qualified top of their group in the Gladwish Spring Cup, lost their unbeaten record, going down 2-0 to Newport Pagnell.
Manager Phil Granville made a few changes and rested a couple of players as he looked to ensure a strong team will be available for the semi-final this Saturday, when Dynamos host Division One side London Lions.
Newport went ahead after 20 minutes at the weekend with a low cross which was turned in, beating AVD goalkeeper Dan McAteer at the near post.
And within a minute Newport had doubled their lead when a shot deflected off Terry Griffiths, looped over McAteer and into the goal.
Dynamos had several chances but it stayed 2-0.