Aylesbury boss: "I still believe in this group"
​Jack Wells has expressed his frustration at Aylesbury United's form after poor results in the league and FA Cup over the last week.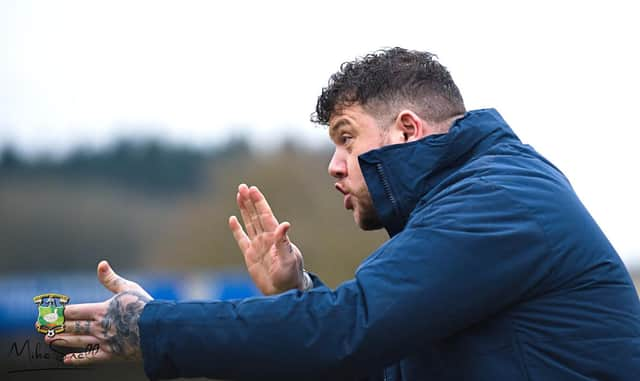 ​A 4-2 defeat at home to Leighton Town last Tuesday was then followed by a 2-0 reverse against visitors Clevedon Town three days later to ensure an exit from the FA Cup at the first hurdle.
And without a win to their name yet in any competition this season, Wells cut a frustrated figure when speaking to the club's media channels after Friday's loss.
He said: "Obviously I'm disappointed and can only apologise to the fans and the board.
"We worked in training on being harder to break down, sitting behind the ball a bit more and being patient, which to be fair for 25 minutes we did well and we created some opportunities which again I find myself saying we should have been converting.
"Then we gave a questionable penalty away but we found ourselves wanting. We just didn't do enough.
"So now I need to go and talk to the staff and the board and have some honest conversations."
Wells says he's now keen to try and lift confidence as Aylesbury prepare to host Hertford Town on Saturday and then go to Kings Langley on Monday in their Bank Holiday double-header.
He said: "It's my job to lift everyone. I still believe in this group and I think man for man we've got a better squad than last season, we're just missing that man in there who can just general about and turn things over and make things happen really quickly for us.
"The lads have got to believe in it and it's not that they don't, it's just a process but that gets harder when we don't pick up results and that's when pressure comes on me and I appreciate that and I take that."
Meanwhile, defender Ayomide Akinbobola has signed for the Ducks.
The 22-year-old joins having spent pre-season with National League South Taunton Town, and brings Southern League experience from stints with Daventry Town, Kempston Rovers and AFC Rushden and Diamonds.
Manager Wells said: "I'm pleased to welcome Ayo to the club. It's been clear from the season start we're a little off balance, and we need to be better defensively. Ayo gives us that, with an abundance of energy and ability."