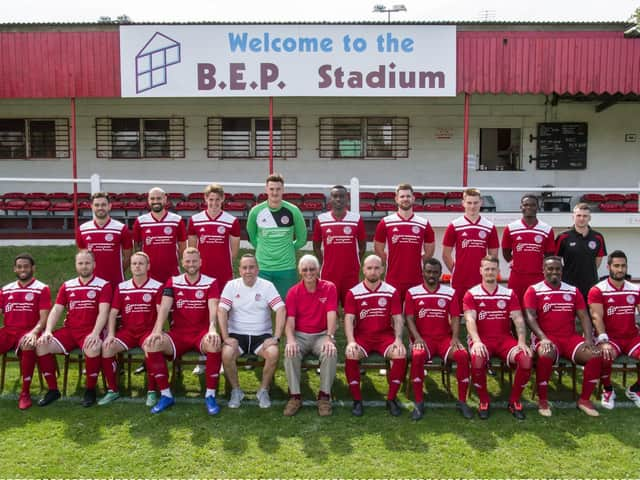 Risborough Rangers at the start of the 2019-20 season
After two unbeaten seasons, Risborough Rangers have deservedly been promoted to Step 5 of the non-league pyramid for the first time in the club's history.
After finishing top and unbeaten in uhlsport Hellenic League Division One East in 2019-20 – and again winning all six games in 2020-21 – their efforts were declared null and void when the seasons were curtailed due to the Covid-19 pandemic.
But the FA's restructing places them in the Spartan South Midlands League Premier Division for 2021-22.
Their fixture list will now include derby games with Aylesbury Vale Dynamos and Tring Athletic, as well as Arlesey Town, Baldock Town, Broadfields United, Crawley Green, Dunstable Town, Harefield United, Harpenden Town, Leighton Town, Leverstock Green, London Colney and Oxhey Jets.
Milton Keynes Irish and New Salamis have been promoted from Step 6 Spartan South Midlands Division One.
And swapped into the division in sideways shifts are Flackwell Heath and Holmer Green from the Hellenic League Premier Division and Cockfosters and Hadley from the Essex Senior League.
"It's been a long wait before we could see reward for the amazing effort of our players in the last two years," said manager Mark Eaton.
"To go unbeaten in the league for such a sustained period takes incredible determination, commitment and focus and they should rightly get the credit they deserve.
"The promotion has of course been achieved by the decision from the FA to calculate the last two seasons via points per game, making Rangers the No. 1 team.
"I hope this will be acknowledged by the Hellenic League and some kind of trophy will be awarded to recognise the team's achievement, it's no more than the players deserve.
"We go into a new league, which does look a tough challenge but one we will relish. Risborough Rangers is in a great position to kick on.
"The recent success of the club has been a real team effort on and off the pitch.
"We have an excellent pre-season schedule lined up and our own pre-season training starts on Thursday, June 24."