ADL Round-up: Mandeville into quarter-finals
Aylesbury & District League round-up, by Marc Thoday: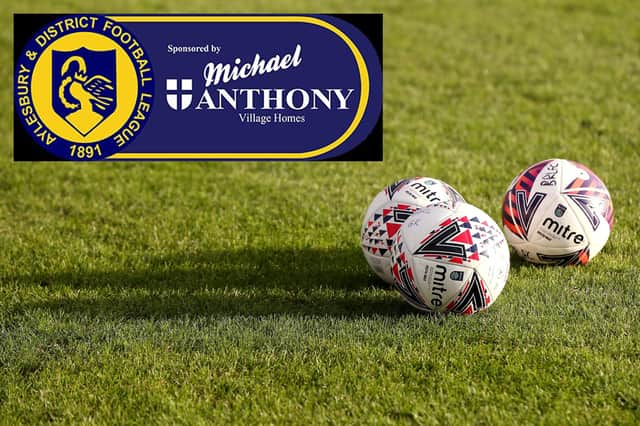 It's been seven years since Aylesbury has been able to celebrate a County Cup win, some sides have had good runs, sides have gone close. Could this be the year the ADL can have a side at the Senior Level bring home the trophy?
Stoke Mandeville FC are well on their way after an impressive win to knock out last year's winners Old Bradwell, a semi-professional team. Having won every game this season, there was a good chance but this was a different level and after leading 1-0 and 2-1 they eventually won 3-2, Sean Coles with two first half goals, importantly the second minutes after Old Bradwell had equalised, and youngster TJ Gibson with the second half winner. Mandeville are now into the quarter-finals.
All the other games were League focused.
In the Premier Division all the other sides can do is try and keep up with Mandeville's wining run. AWFC went back to the summit with a 2-0 away win at Tring Athletic Zebras, Aaron Wilkinson and Connor Briggs netting.
Aylesbury Vale Toqeer Titans are third, level on points with Mandeville having played a game more, and due to play them twice still, a 3-2 away win at Wingrave keeping them in the hunt.
Great Missenden aren't used to be mid-table but are climbing slowly after a 4-2 away win at Wendover, running into a 3-0 lead with a Charlie Brooks brace and Danny Vegas goal. Wendover did pull it back to 3-2 in the second half before Frankie Gambled sealed the game.
Chesham Youth won their third game in four, six of the goals in the first half as Chesham scored all theirs to lead 4-2 at half time at Elmhurst, 4-3 the final score; two goals apiece for Daniel Lane and Yuvva Khantharuban.
In Division One Thame B look favourites for the title as the most consistent side. Four late goals in a 5-0 demolition of Aylesbury Royals keeps them top on goal difference but with two games in hand. James Hickling in the first 15 minutes, then Ryan Binnee (2) Dino Bonwick and Julian Reed in a 25 minute spell got the goals.
Oving now sit second after they ended AWFC Reserves' four-game winning league run 2-0, Ricardo Monteiro and Pat Hurst with goals in the first 15 minutes before AW ended up with 10 men.
Stoke Mandeville Reserves are in contention still after they came from behind to beat Rivets Sports 2-1, two goals in four minutes from Harvey Quinn and Ryan Hamilton. =
Buckinghamshire Utd finally earned their debut ADL point as they drew 1-1 with Haddenham Utd. Potten End thrashed St Leonard's 5-0 in the division's final game, two goals inside 15 minutes and the other three in the last 30 minutes.
In Division Two, unbeaten Aylesbury FC won again, hitting sorry Wingrave Development 8-2. Wingrave did score in the first minute and missed a penalty but there were six second half goals as Aylesbury had endless different players on the scoresheet.
Aylesbury Hearts are chasing them down with a 4-0 away win at Steeple and Ludgershall, Akeel Khan with a hat-trick.
Aylesbury Hornets needed a comeback again as battling Rivets Reserves matched them, going ahead 1-0 through Jamie Gilbert before two second half goals via Trevor Moora and Aaron Hussain gave the Hornets the points.
Oving Development made it back-to-back wins as they beat Aylesbury Vale Toqeer Titans Reserves 2-1, the senior players Lee Pettit and Gareth Dence scoring as Oving held on with ten men.