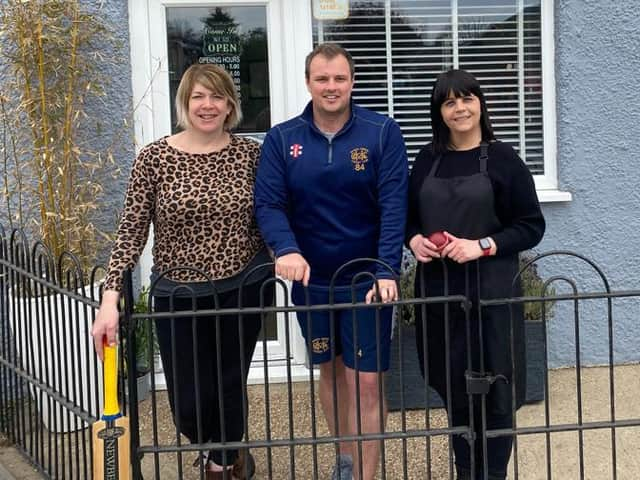 Marsh Gibbon Cricket Clubs vice-captain Joe Leonard, with Debbie Fenton and Dawn Green of new sponsors Affinity Hair Design
Marsh Gibbon CC begin the 2021 campaign at home to Buckingham Town III, on Saturday in Division 5A of the newly expanded Cherwell League
Marsh had competed in the Oxfordshire Cricket Association for the past 30 years, winning league and cup honours, but during the winter this league joined with the Cherwell Cricket League to form an even larger association of 84 clubs with 178 competing teams across the six surrounding counties.
Leading Marsh Gibbon at this historic time will be captain Stuart Leonard and vice-captain Joseph Leonard, who have collectively scored almost 12,000 runs for the club and will be looking to add to their impressive tally of centuries and fifties.
The club has also announced new financial support.
Marsh Gibbon Cricket Club Chairman Carl Needham said: "We're delighted to have secured a sponsorship from a local Waddesdon business for our 2021 season and very much looking forward to mutually supporting and involving Affinity Hair Design, in our fundraising and events."
From Affinity Hair Design partner Debbie Fenton added: "We're very excited to be working with the Marsh Gibbon team and wish them the best of luck this season!"
Fundraising is high on the agenda this year for the club as they missed out on their usual activities at The Recreation Ground last year.
They have organised a raffle for which tickets are on sale, as well as a themed evening for the autumn.