Vilnius city guide, Lithuania: Where to eat and drink - and what to see in the quaint capital
A charming city with a Unesco-listed old town, thriving gastronomy scene and plenty of quirky sights, Vilnius has something for everyone.
Watch more of our videos on Shots! 
and live on Freeview channel 276
Visit Shots! now
Described as the "g-spot of Europe," the city is steeped in history, culture and stunning natural and architectural beauty.
Along with its charming Old Town, which is a UNESCO world heritage site, Vilnius has a thriving gastronomy scene and plenty of quirky sights, including a former prison which was used as a filming location for Stranger Things Season 4.
As the city celebrates its 700th anniversary this year, there's never been a better time to visit the jewel in the crown of the Baltics.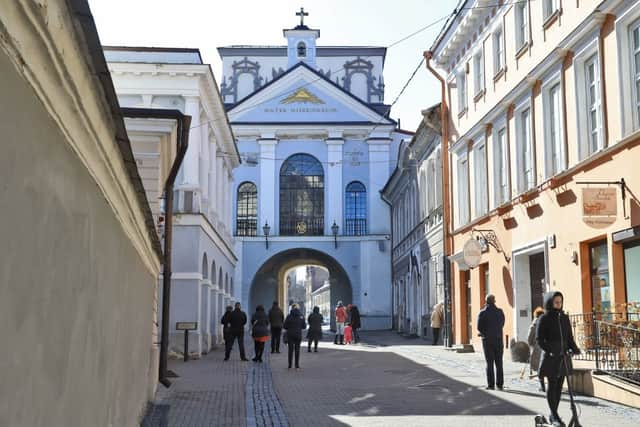 What to do
Take a walking tour of the Old Town
To get a grasp of the city I recommend starting your trip with a walking tour of the Old Town, a network of narrow, cobbled streets which form the Baroque heart of Vilnius. Have a wander through the old Jewish quarter and learn about the history of Vilnius' Jewish community.
A quirkier part of the Old Town is 'Literati Street', an area covered in artistic murals and serves as a shrine to the works of writers who lived and worked in the city.
Discover the city's beautiful Baroque churches including St John's Church. During the summer visitors can take the lift up to the belltower for a bird's eye view of the city.
Other impressive churches worth visiting are St Anne's and St Peters and St Pauls.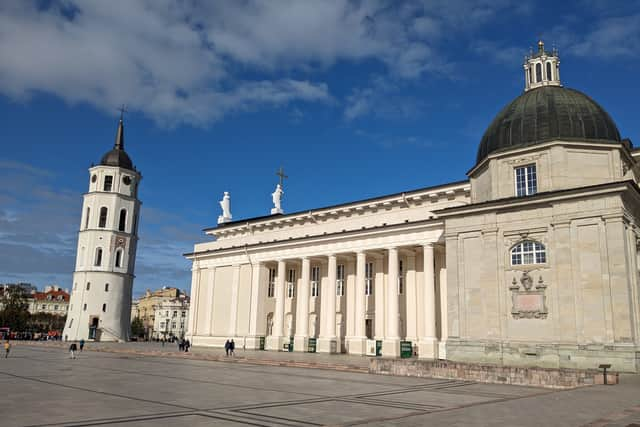 Cathedral Square
No trip to Vilnius is complete without a visit to the famous Cathedral Square where you'll find the Basilica of St Stanislaus and St Ladislaus – a former Pagan temple and the burial site of Lithuania's patron saint, Casimir.
Just outside the cathedral is a tile called the 'Stebuklas', or 'miracle tile', which marks the spot from where, in 1989, two million people formed a human chain that stretched all the way to Tallinn, Estonia, to protest against Soviet occupation.
Legend has it that if you stand on the tile, spin around three times clockwise, jump up and clap once, your wishes will come true.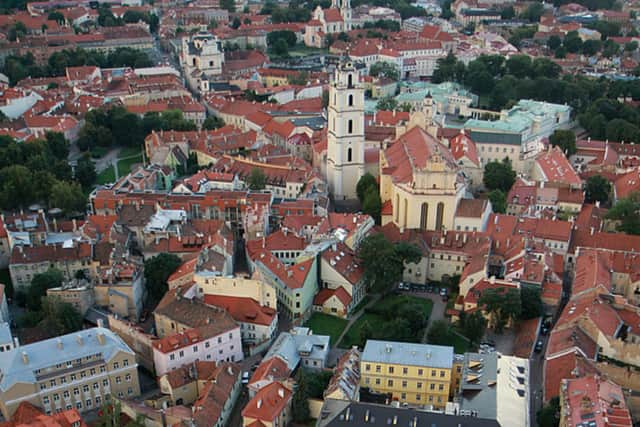 Climb up Gediminas Hill
The best way to see a city is often from above so take a walk up Gediminas Hill, which is named after the city's founder grand duke Gediminas. On top of the hill is Gediminas Tower, one of Vilnius's most famous landmarks. Admire the red roofs of Vilnius, the church towers, and the narrow streets of the Old Town from the summit.
Visit Lukiškės prison
Lukiskes Prison, which was used as a setting for Stranger Things, opened in 1904 and closed in 2019. For 115 years, the prison was guarded by high walls and barbed wire, but today the site is open to the public.
It housed a wide range of inmates, including those imprisoned during both world wars, the Soviet invasion and after Lithuania's independence. In 2021 it reopened as Lukiškės Prison 2.0 ­and is now home to 250 creators and artists.
The central courtyard is now used as a performance space, and you can even enjoy a cocktail in a "cell block bar."
Where to eat and drink in Vilnius
For food and drink there is plenty of choice in Vilnius, from traditional Lithuanian cuisine to fine dining restaurants.
For traditional Lithuanian cuisine we visited Restaurant Lokys in the Old Town. Tucked away in a medieval merchant's house the restaurant specialises in so-called "hunters' dishes. We opted for some snacks of dried meat, fried rye bread, cheese doughnuts and smoked catfish. We also tried the boiled potato zeppelins with pork filling all washed down with a delicious lager.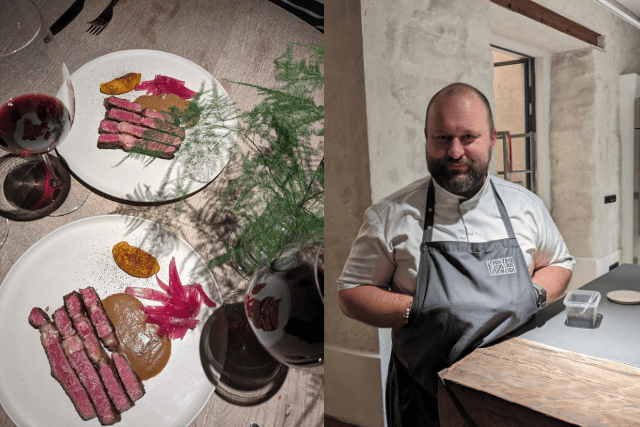 For fine dining a visit to Nineteen18 is a must. The kitchen is headed up by Andrius Kubilius, who also happens to be the son of Lithuania's former Prime Minister. We were treated to a decadent eight course meal of dishes that ranged from veal brain to the head chef's take on a Lithuanian taco to the finest cut of steak, all served with wine pairings. To complement our dessert and to add a bitter taste to the sweet, the chef to our surprise and slight horror added dried ants! They were perhaps not for me but when in Vilnius...
Another spot we would recommend dining is Protėviai, which means ancestors in Lithuanian. We shared some trout caviar and hamachi tartare for starters. For the main course we enjoyed some delicious rib eye steak with a range of sides.
For vegans, there are a few options in Vilnius including Rosehip vegan bistro and Bistro 18, which offer delicious and affordable options.
Where to stay?
We stayed in the Artagonist, a rustic hotel tucked away on the cobbled streets of the city's Old Town. A modern and stylish hotel inhabiting a building which dates back to the 15th century. Each room is decorated by the works of art (pictures, installations, murals, or sculptures), designed by Lithuanian artists.
How to get there from London
There are direct flights to Vilnius from London Luton or City airport with Polish airline Lot.