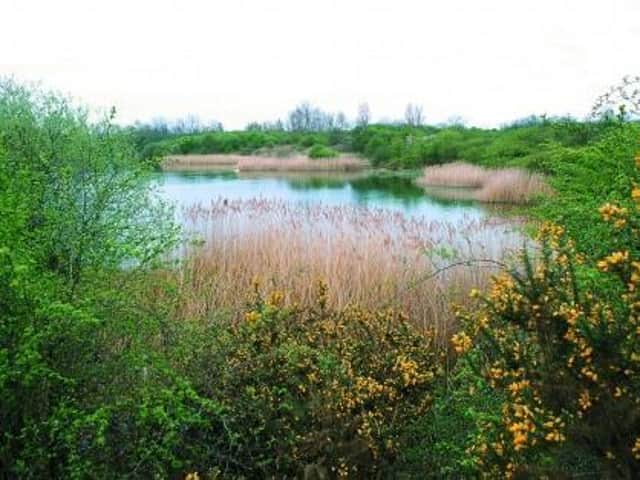 Calvert Jubilee
Buckinghamshire, Berkshire and Oxon called the move 'Heartbreaking destruction of a precious place'.
Estelle Bailey Chief Executive of the Berks, Bucks and Oxon Wildlife Trust said: "Calvert Jubilee is one of the jewels in the crown of our nature reserves - a peaceful lakeside sprinkled with wild flowers and a quiet haven for wildlife and people, home to bittern, breeding tern, and some of our rarest butterflies.
"For years we have been battling against the Government's plans for HS2 and the destructive impact the project will have on our wildlife and countryside.
"It is with great sadness that we have to report that on Tuesday 28 July HS2 will take legal possession of a large part of our Calvert Jubilee nature reserve and begin clearance works.
"They will destroy an area of the eastern side of the reserve to make space for the railway."
Initially HS2 will be clearing vegetation to erect fencing across part of the reserve.
Over the last 50 years, the reserve has become a haven for large numbers of overwintering waterfowl and waders.
Birds like blackcap nest in the trees and scrub, and the reeds in the shallower parts of the lake play host to the magnificent bittern.
The site is renowned as a home to all five species of UK hairstreak butterfly.
"This fabulous matrix of habitats is a direct result of the hard work and passion of the people who have made Calvert Jubilee a real gem for wildlife. Sadly, all this might be lost thanks to HS2.
"We will continue to oppose all clearance works, particularly any that are proposed to take place during bird nesting season.
"But in spite of our best efforts and our vigorous campaigning, an area of this precious nature reserve will be destroyed forever."
HS2's work means that some gates into the reserve and paths that run through it will be closed.
The Buckinghamshire, Berkshire and Oxon wildlift trust said they had still 'not received any detail' about HS2's plans in the area.
They said: "As such, we do not yet know what public access to the reserve we will be able to maintain. Needless to say, we will be scrutinizing HS2's works at every stage to try and save as much of our precious reserve as possible.
"When we are given more information about access, we will update the reserve webpage. In the meantime, we would be grateful if you could direct any queries to HS2 on 08081 434 434 or [email protected]"
HS2 however counteracted these claims, and said they have been 'working closely' with the trust.
They also said they will be working to keep site access open.
Speaking to the Bucks Herald, HS2 said: "The vast majority of the Calvert Jubilee nature reserve will be unaffected by this work and we have been working closely with the local Wildlife Trust to ensure that visitors will still be able to access the site.
"HS2 takes the environmental impact of construction very seriously, and we are delivering a 'green corridor' alongside the line made up of new woodland, wetland and other wildlife habitats, with 70,000 new trees planted across Buckinghamshire already this year.
"All leading environment organisations agree that climate change is the biggest threat facing wildlife and habitats in the UK. HS2 will get people out of their cars, off domestic flights and take lorries off our congested roads, reducing transport carbon emissions and improving air quality."
They also outlined their plans for the area, including:
-The Calvert Jubilee nature reserve consists of a pair of former clay pits and a stretch of abandoned railway line. Our possession of Calvert Jubilee is 20% of the full nature reserve and mostly consists of a thin strip along the eastern side of the site where the Great Central line used to run until it was closed to passenger traffic in the 1960s.
-A significant programme of tree planting has already taken place in the Sheephouse Wood and Decoypond Wood areas, near to Calvert Jubilee. This involved planting trees up to 2.5 metres in height to establish new bat flight path lines and approximately 70,000 smaller trees and shrubs which will enhance connections between existing woodlands and to establish new woodland areas over time. We have established a £1 million fund, administered by the District Council, for additional environmental mitigation once our detailed design has been developed.
Mark Vallance, Reserves Manager for Calvert Jubilee said:
"I grew up a few miles from Calvert Jubilee - my visits there as a young boy set me on the path to my career today.
"The areas that will be destroyed by HS2 have given me some amazing wildlife experiences over the years, including the incredible sight and sound of the elusive and rare nightingale.
"I am heartbroken to know that in the coming weeks and months HS2's chainsaws and diggers will finally roll onto one of our most diverse and beautiful nature reserves, destroying habitats that have been looked after by dedicated people for more than 40 years."
Buckinghamshire, Berkshire and Oxon are continuing to campaign against the damage that will be caused by HS2.
They are encouraging people to write to their MP and ask them to urge the government to rethink their approach to HS2.
"You could point them to our report into the environmental cost of HS2 and include the following points:
"If HS2 must go ahead, it should be seen as a nature restoration project as well as transport project.
"There must be a 1km green buffer strip either side of the HS2 corridor and green bridges to connect green spaces.
"There must be a large-scale commitment to the communities, landscapes and wildlife that HS2 fragments."