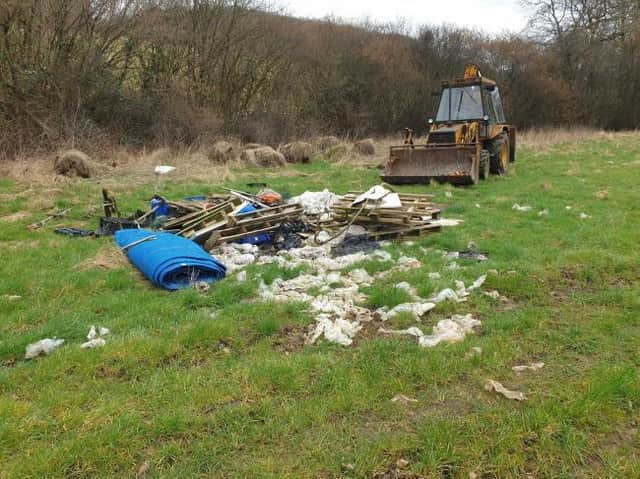 Penn farm sees 'dramatic' rise in fly-tipping 'since tip charges introduced'
The owners of a farm in Penn said they are "incredibly fed up" with repeat fly-tipping on their land and nearby lanes, adding the rate of illegal dumping has ramped up since tip charges were brought in.
They said there has always been fly-tipping locally but that the situation is escalating, and that they knew of another farmer who reports to Bucks Council all instances of fly-tipping but that it can be "months" before it is cleared up.
They said they had taken to using a JCB to remove rubbish from their own land following recent dumping.
"They broke a gate to get into our field and dump all of this [rubbish]," they wrote on social media.
"The dumping has dramatically increased since they've started charging people again at the local dump. It's not on."
In response, someone wrote: "And because it's on your land, it's your responsibility. The council charge so you have to pay for the removal of someone else's rubbish. So unfair."
Speaking to the Local Democracy Reporting Service (LDRS), they added: "I'm just incredibly fed up with the situation.
"I overheard them trying to charge £23 for an old boiler at the local recycling centre.
"We live in Penn and there has always been dumping on our lanes but since they have started charging the dumping has increased."
They added: "The other local farmer reports all dumping immediately but it still ends up there for weeks, months."
A Bucks Council spokesman said: "Buckinghamshire Council has a zero-tolerance enforcement policy for fly-tipping.
"We will investigate this dumping as far as the available evidence allows, as we do with every report we receive.
"We will continue to do all we can to bring those responsible to justice and to take measures to reduce fly-tipping.
"We can't explain individual reasons for dumping and there is no evidence that charging for non-household waste at the Household Recycling Centres (HRCs) has increased fly-tipping.
"The enforcement team have collected some data since charges came in and 95
per cent of fly-tipped waste since charges were brought in at HRCs is trade waste or household waste, neither of which were affected by charges for non-household waste."
, Local Democracy Reporting Service