3,000-home Aylesbury development takes another step forward
Hampden Fields will provide 3,000 new family homes - including 900 affordable homes
Friday, 25th June 2021, 12:26 pm
Buckinghamshire Council has recently issued planning permission for Hampden Fields, in Aylesbury
The issue of the Decision Notice is a significant step towards the delivery of an important element of Aylesbury Garden Town, with Hampden Fields set to provide 3,000 new family homes, including up to 900 affordable homes.
The Decision Notice also secures the delivery of significant infrastructure benefits for the local community, including the Southern Link Road, and approximately £72 million of facilities and financial contributions through the Section 106 agreement.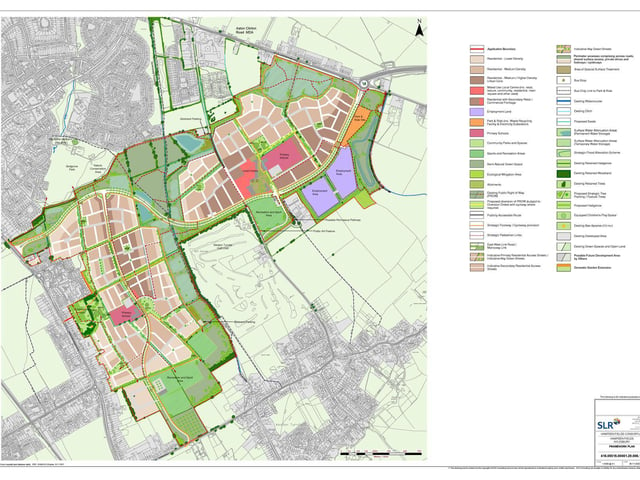 Masterplan of the framework plan (C) OS data licence number AL100012293. Copyright SLR Consulting Ltd
Hampden Fields will also deliver two new primary schools, a new doctor's surgery that will be capable of future further expansion, employment land for up to 1,200 new jobs, over 109 hectares of green open space, sports and play facilities, allotments and community growing spaces.
Going forward, the Hampden Fields Consortium will continue to engage positively with Buckinghamshire Council, Weston Turville Parish Council and the local community to bring forward the Design Codes and detailed plans for the development in line with Garden Town principles.
It is intended that these matters will be progressed in the near future to enable the development to commence on site in Spring 2023 and completion of the Southern Link Road by December 2024.
A spokesman for The Hampden Fields Consortium, said: "We are delighted that Buckinghamshire Council has issued formal planning permission for Hampden Fields, which is an essential element of the Aylesbury Garden Town vision.
"Hampden Fields will deliver a wide range of benefits for the local community, such as the essential dual-carriageway Southern Link Road, and a significant amount of social infrastructure including new schools, a health centre, and extensive public open space."
Hampden Fields represents planned sustainable growth and is intrinsic to the soundness of the strategic growth set-out in the Vale of Aylesbury Local Plan (VALP).
Hampden Fields is also a crucial element of Aylesbury's Garden Town status, which is supported by the Government.