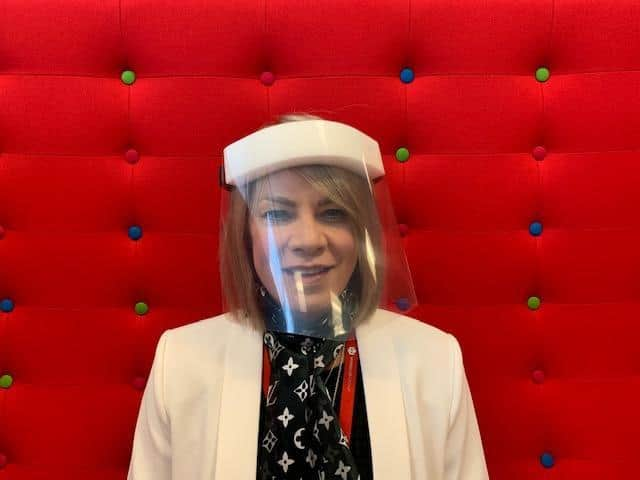 The PPE equipment being made by Windles staff
With orders for greetings cards significantly down due to the UK's Covid-19 lockdown, Windles' sales director Andrea Norcott realised the Thame-based print firm could use their machines to manufacture face visors for nurses, doctors, care workers, transport and shop staff.
Andrea said: "We recently had a job finishing printed, foiled acetate sleeves for a prestigious perfumier brand and I thought we could look at adapting the process for the much-needed face visors that workers on the front line are crying out for."
With the full support of MD and company founder Bruce Podmore, Andrea got the Windles' sales team engaged in designing, engineering, obtaining materials and registering the newly-developed Medi-Visor with the NHS.
Andrea added: "The prototypes were tested and modified several times to ensure they would be fit for purpose then manufacturing was enabled once we were sure our design conformed to EU directives.
"As with everything we execute, we made a list of key properties – in this case fluid- resistant face shields, comfort for long shift use so there are no bruises or marks to the wearer, use of foam specific for skin contact, and maximum protection from risk of infection spread – and the final Medi-Visor was not approved until all were satisfied.
"I'm so proud of my team and what we've achieved. We now have a product that will benefit our front-line people in the NHS as well as those in the many care homes
who have gone without PPE and across so many sectors where staff are in public- facing roles.
"Orders are already coming in from hospitals, NHS personnel, care homes, the prison service, supermarkets, and pharmacies."
Thanks to inhouse designer and creative direction Ian Kear-Bertie, Windles had a head start as his sister-in-law is on the front line as an ITU nurse so gave immediate feedback which ensured the design offers maximum protection and comfort to those who need to wear the visors for long shifts.
Professor Steve Hams, director of quality and chief nurse at the Gloucestershire Royal Hospital, said Windles' Medi-Visor is the best design he has seen so far with the shape and profile allowing plenty of head-rotational freedom and he thinks the tuck-in wings are great for additional protection.
He added that they will use the visors for sessional use where one is issued per staff member for their entire shift rather than single use where the visor has to be discarded after each patient.
Andrea added: "It's great to know we're making a difference. The Gloucestershire Foundation NHS Trust have placed an order for weekly supplies of Medi-Visors for
"We registered our Medi-Visor with the Government's Covid-19 suppliers' list on April 4 and are still waiting to hear from them so our sales team have used their personal social media platforms and cold calling to make direct contact with hospitals, care homes, GPs' surgeries, pharmacies, etc, to secure orders for this much-needed PPE at cost price so everyone can be protected."
With 65 per cent of Windles' normal business being printing greetings cards, the closure of all non-essential bricks-and-mortar retailers has seen a sharp drop in orders as publishers have also found their order books drastically reduced.
Since the lockdown was imposed on March 24, the printers have a few orders from publishers planning ahead for Christmas as well as overspill work with pharmaceutical packaging but it's not enough to keep the whole factory running, with staff furloughed across all departments.
"The Medi-Visor means we're able to keep a small team working," Andrea said, "and we know there are many businesses in the same situation, however, it's a shame
because we know greetings cards are a critically-needed industry.
"Scientific research has proven that receiving a card really does make people happy, but even the supermarkets have cut their orders and a huge volume of normal card
sales are through these channels.
"A card is a physical non-contact hug in an envelope – when a person suffering with their mental health receives a card through the post it really can change their day, give them something to smile about as they know someone has made the effort.
"These times of social distancing and isolation are causing loneliness for many but the Royal Mail are key workers and proving a lifeline so, with post boxes in close proximity as people go out for their daily exercise, we can still show how much we care.
"It would be great if cards with captions like Thinking Of You Today, Just Sending You A Hug, Hello, or even just a humorous card to bring a smile were positioned in the supermarkets for a quick pick-up as people do their essential shop.
"It's a sad sight looking down on the factory floor to see the pallets of greetings cards where orders have been postponed. This is such an emotive and caring industry –
another reason why we couldn't just close when we have the capacity to do something to help.
"We just want to say thank you to the NHS and all keyworkers, and thank you everyone for staying at home. Stay safe."