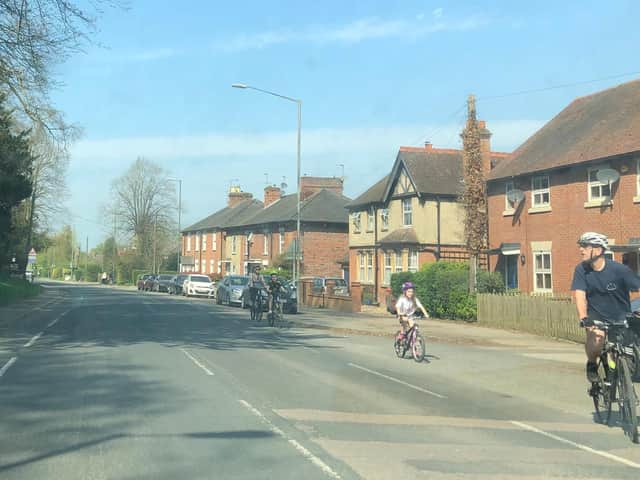 Aston Clinton eerily quiet, apart from a family taking their daily exercise on Easter Saturday
This number is likely to be larger in reality, as not everyone who has the virus will end up being tested.
Nationally 717 deaths from the virus were recorded on Easter Monday, this figure reflects people who have passed away in hospital following a positive test.
This does not include people who passed away without being tested, or those who have died at care homes or in their own house or flat.
A show of solidarity outside the closed Cotton Wheel pub on Meadowcroft
This week the Aylesbury Vale has continued to play its part in stopping the spread of covid-19.
Over the Easter bank holiday weekend roads were quiet and open spaces, while being used, were not bustling with sunbathers and barbecues. People have clearly chosen to responsibly heed the advice and stop at home, in order to save lives.
Aylesbury's MP Rob Butler thanked everyone for their sacrifices in seeing friends and family over Easter.
He said: "For so many people throughout the Aylesbury constituency this has been a particularly difficult Bank Holiday weekend. Some have been self-isolating, shielding or suffering from Covid-19. Others have been working on the frontline - whether in the health service, care homes or pharmacies looking after the unwell; or the police, prison and probation officers keeping us safe; farmers, manufacturers, distributors and supermarket staff ensuring we have the food we need; teachers and school staff taking care of the children of key workers; and all the council staff who are running our crucial local services.
A children's play area on Meadowcroft with a sign urging children not to use it
"Thousands of families and friends have been forced to stay apart, missing their traditional celebrations. The religious festivals of Passover, Easter and Vaisakhi have been marked in unprecedented solitude, but no less sincerity.
"This has been the most testing time of the restrictions so far.
"There have been many temptations to go out, enjoy the sunshine, have a picnic or even a party. But the huge majority of local people have resisted that temptation, recognising the greater good that comes from remaining inside and avoiding other people.
"I'd like to thank everyone for their patience and their fortitude, for staying at home to protect people they know and love, and people they've never met.
Aylesbury Vale was also at the centre of national coronavirus news this week, after it was revealed that the Prime Minister Boris Johnson has travelled to the Chequers Estate near Wendover to continue his recovery from the bug.
Together with his pregnant fiance Carrie Simmonds, Mr Johnson will stay at the Chequers Estate until he is well enough to return to work.
Set close to Coombe Hill, and along the route of the Ridgeway, Chequers is a picturesque and tranquil location from which to recuperate and get better from any illness.
The house and its 1,000 acre estate was bequeathed to the nation in 1917 by Sir Arthur Lee to whoever holds the office of Prime Minister.
The property is used as a retreat from the bustle of Downing Street, with Lloyd George being its first prime ministerial occupant in 1921. It is run and managed by an independent trust and is maintained by an endowment administered by the trustees.
Meanwhile, our public services and hospitals in Stoke Mandeville and High Wycombe continue to provide top quality care and support, and for that we will be forever in their debt.