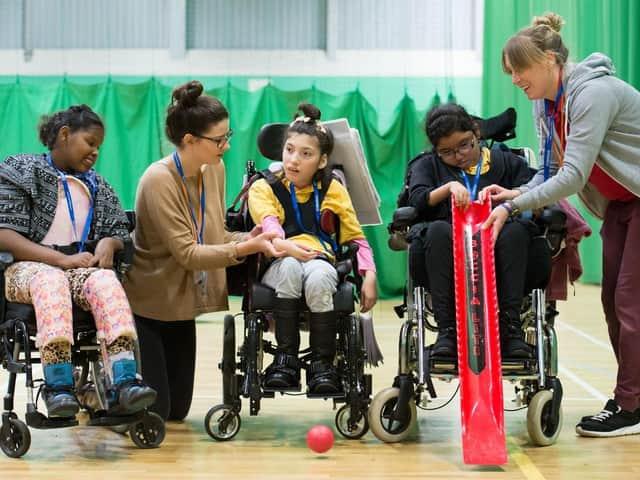 Pace Centre pupils taking part in an event at Stoke Mandeville Stadium
The inspection in November was the first for three years and the charity's school services have never been graded anything other than "Outstanding" by the watchdog.
The Ofsted report praises Pace for its 'expertise in providing for the complex needs of its pupils.'
The inspectors found that Pace's pupils, 'including those with complex needs, thrive at this excellent school. They are upbeat, determined and joyous'.
They also recognised the critical role that communication is at the heart of Pace's work.
Pace Centre chief executive Ian Sansbury, said: "This is yet another demonstration of the highly specialist and nationally-significant work that Pace is doing here in Aylesbury, working with children with complex disabilities from all over the region.
"Pace helps those children and young people to reach their fullest potential in life and we are delighted that the exceptional quality of our school services has been recognised once again by Ofsted.
"However, that ambition comes at a cost – and through our Helping Hands appeal we are looking for support for our innovative communication curriculum. We need help to fund our specialist speech and language therapy provision, the cutting-edge equipment through which many of our children communicate and our relentless ambition to help our children and young people find their voice".
Pace's Helping Hands Appeal is seeking to raise £25,000 this Christmas to give children like George, who attends Pace's secondary school, the ability to communicate.
George has cerebral palsy and although he is unable to speak, Pace has taught him to communicate through its specialist curriculum, first using a symbol-based book and now with an EyeGaze retina scanning computer. It is painstaking work that Pace typically has to fund charitably.
Headteacher Claire Smart said: "Communication is such a critical part of what we teach our children and young people at Pace – it is literally the first thing that parents ask us to focus on, given the impact it can have on their child and their family.
"And so we are delighted that Ofsted has recognised that, and so much more, in this latest inspection".