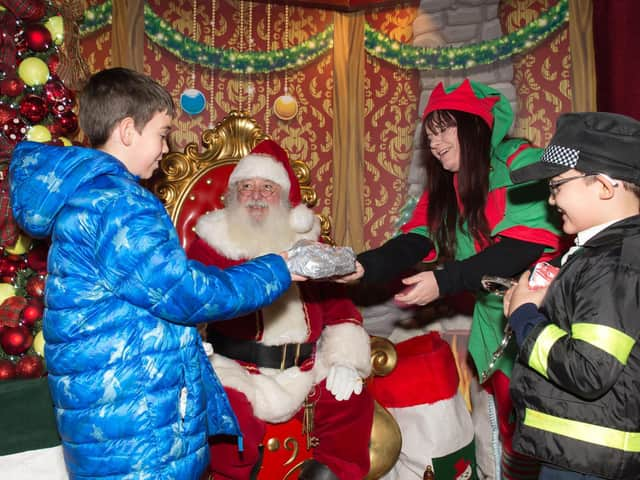 Youngsters get to meet Santa
The event, called Caring Santa, was organised by local mum of three Tracey Dennis so children and young people with learning difficulties could meet Santa in a quiet environment. This is the fifth year that Tracey has run the event with Friars Square.
More than 30 local children, teenagers and young adults with learning disabilities attended the special after-hours session at Friars Square grotto.
The grotto opened after closing time for the group and the music is kept low. Each child had a scheduled appointment with Santa, as queues can distress some children with autism.
Youngsters get to meet Santa
Friars Square donated presents for the children and additional gifts were given by the Aylesbury branch of National Autistic Society.
Tracey Dennis said: "This is the fifth year that we've run the Caring Santa at Friars Square. I first read about Caring Santa on social media back in 2015 – it's an American idea and I thought there's got to be a way to do this here. I contacted Friars Square and they said we will help you with it.
"Each year it's got bigger and bigger. It is just so rewarding meeting the families. The first year we did it a mum grabbed me and burst into tears showing me a photo of her son with Santa – she said she'd never seen him smile like that. I would like to thank everyone at Friars Square for being so helpful and supportive to us."
Andy Margieson, centre manager at Friars Square, said: "We are delighted to host the Caring Santa at Friars Square. It's really important that children with learning disabilities can meet Santa in an environment that makes them feel comfortable without becoming distressed.
Youngsters get to meet Santa
"Tracey has continued doing an amazing job organising the event every year. We are only too happy to help out."
Santa's grotto is open at Friars Square shopping centre every day till Christmas Eve. Entry costs £3 for one child or £5 for two and includes a gift. For details of timings check www.friarssquareshopping.com or Facebook @FriarsSquareShoppingCentre.