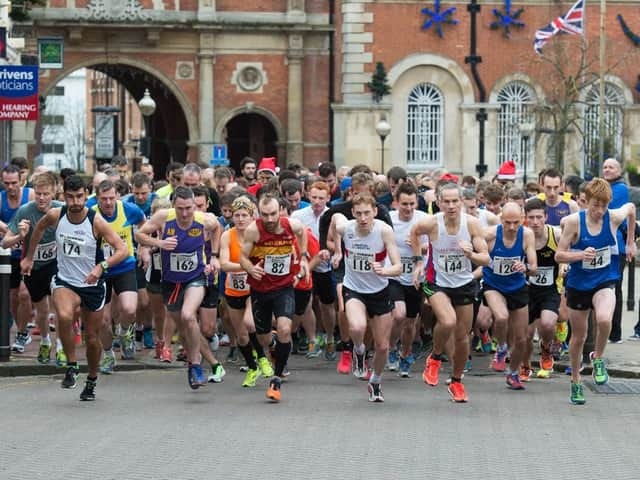 The Boxing Day road race in Aylesbury
One of Aylesbury's favourite keep-fit Christmas traditions is the Boxing Day 5k race through the streets of the town.
This year the race is in its 60th year, and organisers are advising runners to get their advance entries in by December 22.
Race HQ will be Mendoza Café Bar in the High Street and the club would like to thank them for their support.
Mendoza will open at 8.30am on the day and will be open throughout the morning.
The Club has again arranged for an earlier race for younger runners which measures approximately 800m starting at the Clock Tower in the town's Market Square at 9.25am.
This two lap race is for children aged 11 and under, and for little ones parents may also take part. The cost of the race is £3.
The main event for those aged 12 and over, sets off from The Market Square at 9.45am on a measured 5k course around the town and as always there will be prizes across all age groups; in addition all finishers will receive a commemorative medal to remember the day and a drinks voucher to spend at Mendoza's.
The Athletic Club says it is very grateful to Up & Running, Oxford who are providing the prizes, details of which are on the Club website.
The course will be marshalled by Vale's great volunteers and the cost of entry is £9 for Club members and £11 for unattached runners.
Last year's winner Phillip Sewell from Aldershot, Farnham and District has already signed up to defend his title that he won last year.
Racers are urged to book their place in advance as there is an additional £1 per runner charged for those who register on the day, numbers for the main race are limited to 300.
To book your place visit the Boxing Day Race page of the Athletic Club website at : www.voaac.org.uk/voaac-boxing-day-race where you can choose to enter online through Eventbrite or Runbritain.