Pan-disability football team in Aylesbury celebrates end of season in style
The club paid tribute to a long-serving member of staff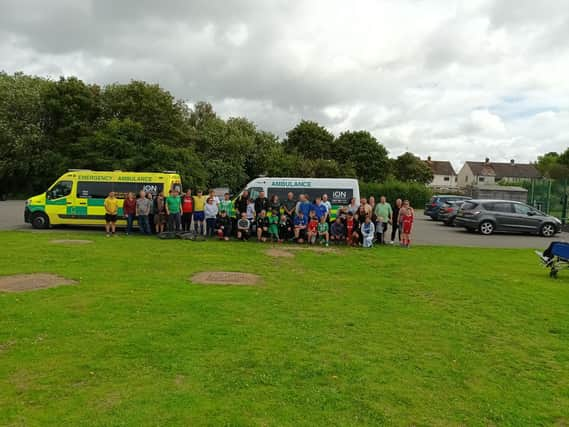 A pan-disability club in Aylesbury celebrated the end of the 2022-23 season with a day of fun activities.
The Aylesbury United Inclusive Pan Disabilities football team held an awards ceremony to celebrate the previous footballing year.
Every member of the team received a certificate and medal for their efforts. Additional gifts and a special thank you was reserved for Nick Gurney, who has volunteered as a coach for the team for 11 years. He has played an integral role in organising the not-for-profit team for more than a decade.
Young children associated to the team enjoyed bouncing on the castle, which was provided by members of Bendy Legs Entertainment, one of the team's main sponsors.
There was an adults versus players game, followed by a rounders match, and ice cream after the activities, these came from Jay's Ice's another one of the team's sponsors.
The team's final official sponsor also supported the event, ION Ambulance Care staff attended and brought along one of their vehicles, allowing players to get a closer look at the emergency vehicle.
Aylesbury United Inclusive Pan Disabilities football team is a not-for-profit venture providing inclusive football sessions to children and adults with disabilities. Its goal is to provide those with disabilities and additional needs an opportunity to participate in the sport in a safe and understanding environment.
The team relies on sponsors for things like equipment, kits and other running costs, as it does not charge players subs or season-long membership fees.
Sessions are solely run by the parents and adults who volunteer their free time to help people who may otherwise not get a chance to enjoy team sport.
Interested businesses are encouraged to enquire about sponsoring the team, as volunteers are always on the lookout for more financial help. People are encouraged to follow the team's Facebook page.
A fundraising page has also been set up to allow people to make a one-off contribution to help with costs for the 2023-24 season, this can be accessed online. The football team has existed since 2012.