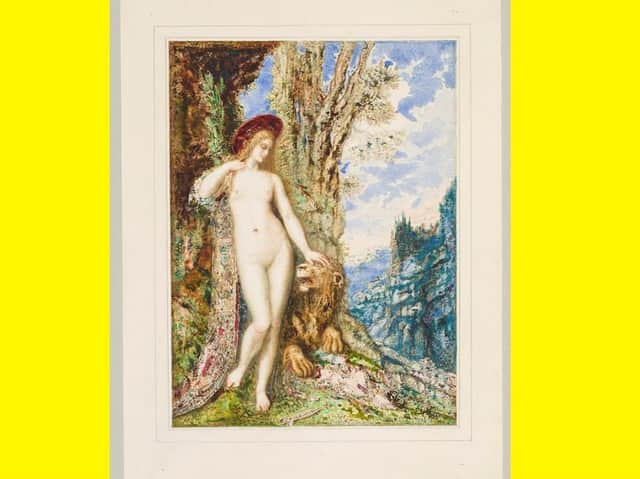 Will you be visiting?
The exhibition is set to open on 16 June – 17 October 2021.
This new exhibition in the House features the works of Gustave Moreau (1826-98), one of the most brilliant and influential artists associated with the French Symbolist movement, and reveals some of the most extraordinary works he ever made, unseen in public for over a century.
In collaboration with the Rothschild family and Musée National Gustave Moreau, Paris, the exhibition will reveal 34 watercolours, created by Moreau between 1879 and 1885, for the first time since 1906. They were part of a series commissioned by the art collector Antony Roux to illustrate the 17th-century Fables of Jean de La Fontaine.
Moreau made 64 works for the series, 63 of which subsequently entered the collection of Miriam Alexandrine de Rothschild (1884-1965); however, nearly half were lost during the Nazi era. The surviving works have not been exhibited since 1906 and only a handful have ever been published in colour.
One early commentator wrote that it was as though their creator 'was a jeweller before he was a painter and who, drunk on colour, had ground up rubies, sapphires, emeralds, topazes, pearls and mother-of-pearl to make his palette.'
British critics in the 1880s praised the series; one described the works as full of 'witchery and enchantment'; another commented on Moreau's 'keen apprehension of the weird'.
Gustave Moreau: The Fables is curated by Dr Juliet Carey, Senior Curator Waddesdon Manor She says "I still remember the excitement of looking at Moreau's Fables watercolours for the first time, knowing that they had not been seen in public for over a hundred years and I am thrilled that visitors to Waddesdon will experience something similar. It is wonderfully appropriate that this exhibition is happening at Waddesdon, a place with strong links to the artist and a treasure trove of French art. There are few works by Moreau in British public collections, so these superlative examples will be a revelation."