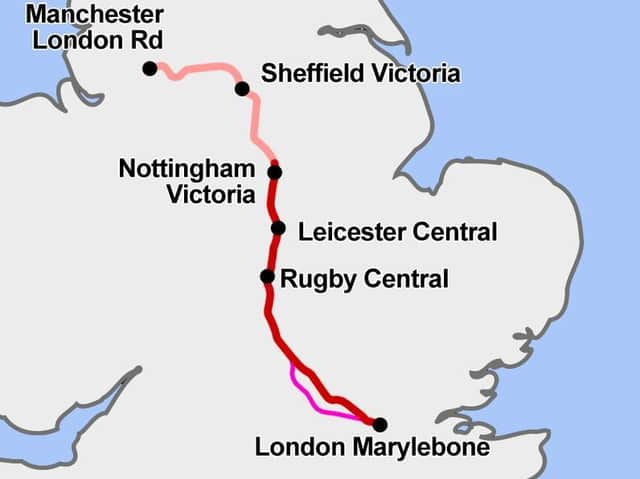 The route of the former railway
The HS2 route in its current form is going to cause untold damage to local wildlife sites as it tears through the countryside.
This could all be avoided, and at a much lesser cost, if the government decided to 're-open' the Great Central Line - which ran from London to Nottingham, with links to Leeds and Manchester - says John.
The line was opened in 1899 and built by the Great Central Railway running from Sheffield in the North of England, southwards through Nottingham and Leicester to Marylebone in London.
The majority of the infrastructure of the Great Main Central Line is still there, apart from viaducts at Brackley and Willoughby.
We in-fact use the old line when we travel into London Marylebone from Aylesbury Vale.
Supporters of the proposal claim it would cost around £6billion.
HS2's current cost estimate is was over £100bn, after initial estimates suggested it would cost 'only' £56bn.
The Great Central Railway line has been closed since 1966 - after it was axed in the now infamous Beeching Report, compiled by Dr Richard Beeching
The Beeching report was published in March 1963, and was adopted by the government; it resulted in the closure of a third of the rail network and the scrapping of a third of a million freight wagons.
The report was widely seen as having a hugely detrimental effect in the United Kingdom, isolating many villages it served and widening the huge gaps we see between big cities and villages around the UK.
John Healey said: "Once upon a time we used to have an HS2 which was closed by Dr Richard Beeching in two stages the first in 1966 between Aylesbury and Rugby and the second between Rugby and Nottingham in 1969. What was most galling of all about this decision was that the route was engineered especially for high speed workings.
"The Great Central Railway London Extension from Sheffield to Aylesbury along with the terminus at Marylebone took just six years to build with manual labour and primitive machinery yet the new line will take twenty years with modern machinery and no doubt slightly less manpower.
"With a spur to Heathrow, there is the possibility of the abolition or downsizing of domestic flights at the airport as well as the dropping of the controversial third runway proposal."
John added that he believed HS2 was needed and would eventually be good for Buckinghamshire, and for the country as a whole in 'post-brexit Britain'.
Chiltern Railways had a long-term plan to reopen the Great Central Main Line north of Aylesbury as far as Rugbyand onward at a later stage to Leicester. However, in 2013 Chiltern Railways stated that the plan was "no longer active" via their twitter feed.
The old line north of Aylesbury Vale Parkway is also set to be used for the new East West Rail link, which will eventually link Aylesbury to Bletchley, Milton Keynes and Oxford.