Little girl's piggy pet dream comes true thanks to Bucks attraction
Many little girls dream of a pet puppy, kitten or even a pony, but for Megan Matthews three little pigs were the only thing on her mind.
Watch more of our videos on Shots! 
and live on Freeview channel 276
Visit Shots! now
And right in time for the half term holidays, the 12 year-old's dreams came true, when she adopted miniature breed pigs Rosie, Blossom and Dotty.
With the help of Amersham, Bucks micro pig breeder Kew Little Pigs, Megan, who lives with her family in Ellens Green Surrey, did months of research before bringing home her new pets, and together with mum Claire created a special pig pod in the garden for the adorable trio.
Megan said: "I really wanted a pet that was affectionate, so I did a lot of research and found miniature pigs. Then I came across breeder Kew Little Pigs which wasn't too far from us.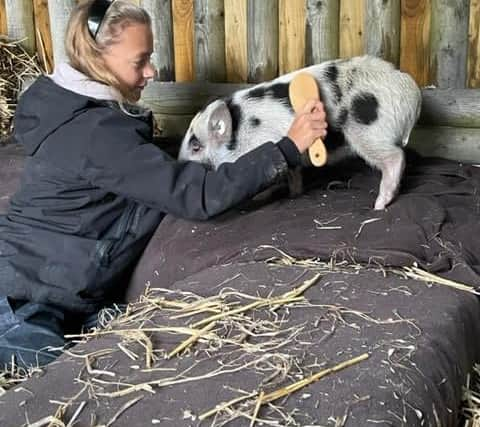 "I was so so excited as this has been my dream, we went on holiday the week before but I was more excited about my pigs and couldn't wait to get home. The drive to Kew Little Pigs in the car flew by because I was so excited.
"It has also been really fun to make the house for the pigs, when we were putting in the hay all of a sudden it felt so real. I know that pigs are an unusual pet, but they really are the best."
Megan's piggy obsession began when a school friend introduced her to her pet pig, a full size porker who was due to give birth to piglets.
But a huge pig was not suitable to the family's lifestyle, so Megan did her research to find smaller pigs which she could care for at home.
When Megan had found out all that she needed to know, she gave a Powerpoint presentation to her parents to win them over.
She added: "They are so affectionate, Dotty especially as she has no idea about personal space and climbs all over me. I just sit in the bed area and Dotty just lays across my lap and they all run toward me when I go to see them. They absolutely love strokes and attention.
"My friends are really excited that I have pet pigs too, I have had about 50 messages from people who want to come and visit to see them. Eventually I'm going to try and train them to walk on leads, they are every bit as loving and intelligent as a dog."
Award-winning Kew Little Pigs is the UK's leading breeder of miniature pigs and is based in Amersham Bucks, before people adopt a pig from the farm they must take part in a pig keeping course, and demonstrate that they have the space that is required to give the animals a happy life.
Olivia Mikhail, owner of Kew Little Pigs, said: "Megan is so enthusiastic about her new pets, and it was so lovely to see. Pigs are still seen as an unusual choice, but they are so loving and can be trained in the same way as a dog.
"As part of our work, we go into schools to show children just how wonderful pigs are, and it really helps change attitudes about them. Children like Megan asking for a pig instead of a puppy or kitten is a wonderful thing, and we know these three will have a brilliant home."