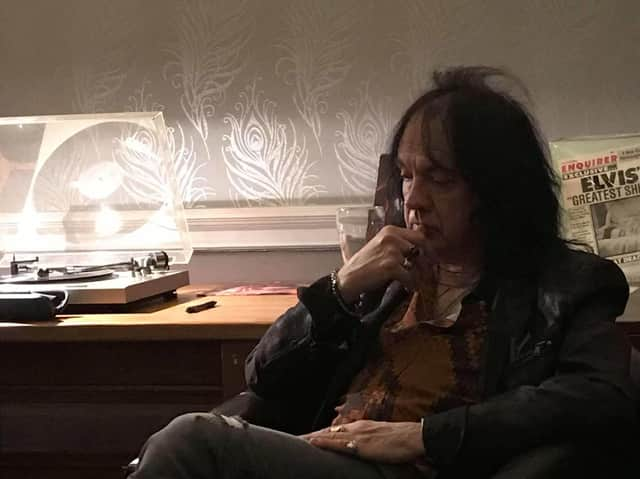 Kris Needs at the Vinyl on Wednesdays event
Happily, Vinyl on Wednesdays' Desert Island Discs evening was packed with a great crowd of regulars who got into the spirit of the occasion after Jude played the long-running radio show's theme music on her mobile.
As I announced, in real life my castaway's record bag would be stuffed with Stones, Hendrix and Mott, but I wanted to cover some names who haven't yet had their own event, each carrying some kind of personal memory.
Indeed, the opening tune was Johnny Thunders' classic ballad 'You Can't Put Your Arms Around A Memory', which I first heard when I spent quite a lot of time with the former New York Dolls guitarist after he settled in London in the 70s; actually a sweet guy behind the wasted image.
Then it was the Gun Club and 'The Fire of Love' from their Miami album, which uncorked a flood of memories from those years when I counted doomed hell-raising leader Jeffrey Lee Pierce among my closest friends (appointing him godfather to my son Daniel Lee in '85).
I'd still love to give my dear friend Marianne Faithfull her own evening but, in the meantime, played 'Sister Morphine', the track later recorded by the Stones she told me about when we first met 40 years ago. I still never forget Marianne's daily support after my Helen passed away in 2018.
The first half closed with 'Human Face' by the astonishing Doll By Doll, the heaviest band of all time who dwarfed any punk outfit when they debuted at Aylesbury's now-gone Britannia pub in 1978 and kept coming back. Also very sweet guys, if somewhat damaged. It made my night when Jude and Rick's son Niall, who'd never heard them, said he was blown away by their supernatural power.
Part two began with Nick Cave and the Bad Seeds, 'The Mercy Seat' written from the perspective of a man going to the electric chair, invoking that 80s period when I'd see a lot of Nick in London or New York. Then it was the exquisite perfection of 'I Want Your Love' by the incredible Chic, who once invited me to see them at work in their New York studio, followed by France's astonishing Magma, the ultimate prog band with the world's best drummer in powerhouse leader Christian Vander.
The evening ended with the beautiful Beatless Mix of 'Smokebelch' by Andrew Weatherall's Sabres of Paradise. Many are still grieving his untimely passing last month; next month's V.O.W. will mark his unique genius with memories and that immortal music.